Salo, critically acclaimed film at SLF
View(s):

Sri Lankan film lovers and cinema enthusiasts will have a rare opportunity to watch 'Salò, or the 120 Days of Sodom' one of the most critically acclaimed films in world cinema history at the monthly film screening at 4 pm on July 23 at the Digital media academy of the, Sri Lanka Foundation.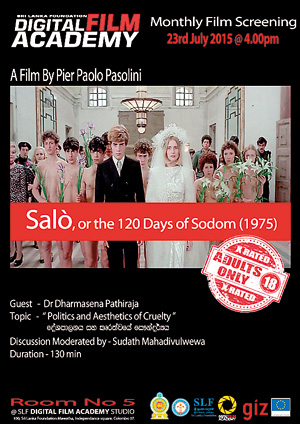 'Salò' is a film revolving around four fascist libertines round up nine adolescent boys and girls and subject them to a hundred and twenty days of physical, mental and sexual torture. Based on the book The 120 Days of Sodom, by the Marquis de Sade, the Italian-French film was made by Pier Paolo Pasolini in 1975.
The story is in four segments, inspired by Dante's Divine Comedy: the Anteinferno, the Circle of Manias, the Circle of Shit and the Circle of Blood. The film also contains frequent references to and several discussions of Friedrich Nietzsche's 1887 book On the Genealogy of Morality, Ezra Pound's poem The Cantos, and Marcel Proust's novel sequence In Search of Lost Time. It was Pasolini's last film; he was murdered shortly before Salò was released. Because it depicts children subjected to intensely graphic violence, relentless sadism, sexual depravity, and horrific murder, the film was extremely controversial upon its release, and remains banned in several countries.
The film screening will be followed by an introduction by veteran filmmaker Dr. Dharmasena Pathiraja on the topic 'Politics and aesthetics of cruelty' and it is moderated by filmmaker Sudath Mahadivulwewa.
The film focuses on four wealthy, corrupt fascist libertines after the fall of Benito Mussolini's Italy in July 1943. The libertines kidnap eighteen teenagers and subject them to four months of extreme violence, sadism, and sexual and mental torture. The film is noted for exploring the themes of political corruption, abuse of power, sadism, perversion, sexuality and fascism.
The film will be screened under X-rated adults only tag.