'Maranaya Nomile' : An influence from Marathi theatre
View(s):

Susanga Kahandawalaarachchi will make his directorial debut with "Maranaya Nomile" which will be staged at the Namel Malini Punchi theatre at Borella on July 18 and 19.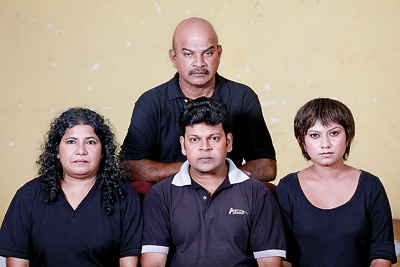 An adaptation of an Indian play titled "Reflection" made by Marathi director Mahesh Elkunvichar, "Maranaya Nomile" tells the story of a young man who migrates from a village to a large city and the issues he faces in a new social and political environment. He faces difficulties in adjusting to the new environment and the pressures of living in a big city take a toll on him which leads to a tragic end.
Susanga who directed the play said that the story is true of what happens to so many people in Sri Lanka as well. "Although the story is set in an Indian city, we in Sri Lanka can relate to it as well," he said.
Sasanga has been in the local theatre for more than two decades and has acted under veteran director Dharmasiri Bandaranayaka in plays such as "Dhawala Beeshana" and "Makarsksha". Translated to Sinhala by Satyapala Galketiya, "Maranaya Nomile" is produced by Indika Samarawickrama.
The cast includes Wasantha Vittachchi, Kumudu Kumarasinghe, Oshadee Gunasekera and Sasanga himself. Music is composed by Prabath Ekanayaka, make up Wasantha Vittachchi, lighting and set designer is Nimal Bulathsinhala and sound operator is Chandana Nishantha.