Second coming: What's on Mahinda's mind
View(s):

My dear Mahinda maama,
I thought I must write to you to congratulate you for securing nominations from the betel leaf party once again although the prospect of you running for Parliament after being the big boss for ten years is like Susanthika running the village marathon after winning a medal at the Olympic games.
Mahinda maama, remember that 'imitation' Sirisena chap who contested the election because he looked like Maithri? In the last few days, we thought that he, and not Maithri, is the big boss now because it seemed as if everything you wanted was being granted with hardly a question being asked.
Anyway, Mahinda maama, it is wise that you have decided to contest from Kurunegala and not from Hambantota. Apart from spoiling Namal baby's chances, it would be quite embarrassing if the Greens won the district after young Sajith's hard work there and he obtained more preferences than you did!
What was encouraging Mahinda maama, was that Maithri not only gave you nominations, he was kind enough to accommodate your friends and relatives, too. So, it is as if nothing has changed after January 8 and we can happily go back to the Mahinda era and you can carry on from where you left.
It is good to hear that even Chamal is not retiring. Of course, it is a pity that Basil and Gota couldn't be found places as well, probably because of their American links but I am sure they will run the show just as well from outside Parliament. After all, that is what Gota did for the past ten years anyway.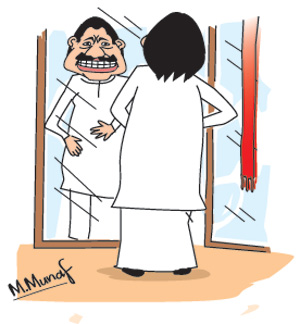 All that is left to do now is to win the election. That is a bit tricky because the masses sent you home just six months ago but I am sure experts like Wimal and Udaya will whip up some racist slogans and say that unless we vote for you, there will be Eelam again. That usually does the trick, doesn't it?
Then we all know, don't we, that all this talk about not appointing you as Prime Minister is just to pacify those people who are claiming that Maithri betrayed the 'cause'? Already he is saying that the PM would be chosen by MPs — and we all know who the Blue MPs will now support, don't we?
So, we can cast aside this 'yahapaalanaya' nonsense and get back to 'business as usual', the way we have been used to for the past ten years. Though Sajin, Mervyn and Duminda have missed out, you still have people like Johnny, Mahindananda, Muthu, Rohitha, Wimal and Pavithra to help you.
You can also get rid of the Police and this so-called 'FCID' acting because there is no political interference and inquiring into all the shady deals that happened in the last ten years. At least, we can be spared of being told in every news broadcast that yet another person was taken in for questioning.
We can all see what a mess the Greens got in to, trying to do everything by the book because everyone is now saying that they haven't proved a single charge of corruption so far. So, we can go back to the more efficient days of instant justice: tying people to trees or slapping high commissioners!
Judging by how Maithri has been acting in the last few weeks where he seems to 'see no evil, hear no evil and speak no evil', I don't think he will ever stand in your way although he says that he will not let the 'January 8 revolution' be reversed. After all, there is nothing more left to reverse now, is there?
And, if there are any troublemakers in the judiciary or the armed forces, you wouldn't be just looking the other way saying 'I won't interfere'. You could always impeach a Chief Justice or court martial a Field Marshall; that is what strong leadership is all about and that is why they call you 'appachchi'!
Maithri in his haste brought in the 19th Amendment that makes it a bit more difficult to do such things now, but all it needs is another constitutional change to undo that — just like you did with the 18th. Even if you don't have the numbers for that, aren't you a master at seducing Greens with ministerial jobs?
Remember, if you do become Prime Minister, it is no longer the peon's job that it used to be, after the 19th amendment was passed. So, even though you are nominally not the big boss, you could do as you wish — especially because Maithri has shown us that he is even "better" than the late Dearly Beloved.
Congratulations, Mahinda maama, no one expected you to bounce back so soon after what happened in January but you have. And, who can forget Maithri's words — that if you are given nominations, the top job is only a bullet away? I am sure that thought would have crossed your mind, too.
Yours truly,
Punchi Putha
PS: We are now hearing that some of the Blues are breaking away and contesting with the Greens. These are the same Blues who broke away with Maithri, when he deserted you to become the 'common' candidate. I am sure Satellite is behind all this. You really have to do something about her, Mahinda maama because she brought about your downfall once and I am sure she can do it again!