SGD threatens islandwide strike if demands are not met
View(s):

The Society of Government Dispensers (SGD) threatened to launch an islandwide strike on Wednesday if the Government fails to meet them, said SGD President Udeni Dassanayake.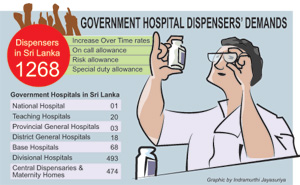 The SGD went on a four-day islandwide strike starting June 29, demanding a Rs 3,000 duty allowance, payment of overtime (OT), increase of call allowance and payment of risk allowance.
"For over two years we have been discussing and demanding these allowances which are given to other health sector workers. It is not right to exclude us from this while we are also a part of the health sector of this country," said Mr. Dassanayake.
He said the Department of Public Service and Administration, and the Fair Wages and Salaries Commission had approved their proposal, but the Ministry of Finance and Planning has failed to grant them.
Mr Dassanayake added that, while their proposal was ignored, other health sector workers were given a special duty allowance of Rs 3,000 in April.
"This is even after Health Minister Rajitha Senaratne promised to pay the same to us, during a meeting we had with him on February 22. After several other discussions we threatened to go on strike on June 3, but Minister Senaratne approached us and asked us to call it off, promising to meet our demands," he said.
As the Health Ministry failed to grant them their needs, the SGD launched an islandwide strike, in which all 1,268 SGD members took part, which crippled the distribution of medicines to patients in all State hospitals.
As a result 850 hospitals came to a standstill, when they couldn't issue medication to clinical and OPD patients. One of the most affected hospitals was the Bentota State Hospital.
"There are over 100 patients who come daily to take medicine as outpatients at the hospital. When the only dispenser was on strike there was no one to give the patients the necessary medications," said a nurse of the Bentota Hospital, who wished to remain anonymous.
Mr Dassanayake said they are aware of the chaos created but they could not help it."The Government even tried to deploy unqualified people to issue medication, and after we complained against this it was stopped," he said.
The SGD also launched a protest march from Viharamahadevi Park in Colombo to the Health Ministry, shouting slogans and calling on the relevant authorities to heed their plight. They also staged a Sathyagraha in front of the ministry till Minister Senaratne agreed to a favourable solution.
Later, on Thursday (2) evening, following discussions with Health Ministry officials who promised to meet their demands by next Wednesday, the strike was temporarily called off. "We will recommence our strike if the Health Ministry fails to afford us justice. We are an important part of the health sector. Our demands are just, and they should be met," Mr Dassanayake said.
The Sunday Times attempts to contact the Health Ministry Secretary was to no avail.