International Yoga Day
View(s):

Trickling down from the traditions of the Indus Valley civilisation, the world has collectively recognised India's contribution to wellness in the form of Yoga. "Yoga is not about exercise but to discover the sense of oneness with ourselves, the world and nature" said Prime Minister Modi in a compelling address to the United Nations General Assembly in September 2014.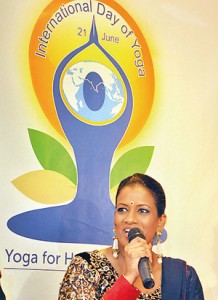 In agreement that this form of physical and mental wellbeing is what the world needs, the UN with a record number of co-sponsors, adopted a resolution in December last year establishing June 21 as the International Day of Yoga.
Celebrating the first International Day of this pre-Vedic tradition, the Indian Cultural Centre and the High Commission of India have put together enlightening events for those curious enough to take-up a session or two and those who find relaxation in the yoga lifestyle. Today's events begin at 6 a.m. at the Galle Face Green, and other workshops are to be held over the next few days of this month.
Preserved by the 'Guru-shishyaparampara' or Houses of Yoga like any other art form, the lifestyle bears many similarities to those recorded in Sri Lankan history according to High Commissioner of India, Y. K. Sinha. "This shared heritage, includes Ayurveda which is a part of the Yoga lifestyle," he said.
Stemming from the Sanskrit syllable, 'Yuj' which translates to connections or 'unity' the wellness each different type of Yoga springs from balancing mind and body. Its benefits are widely known to infuse health physically, mentally and even emotionally. Stepping on a mat and co-ordinating stretching with breathing exercises that we are often tempted to reduce it to, barely skims the surface. In fact, it would only be an account of 'Karma Yoga' which involves the body.
'Jnana Yoga' delves into the depths of the mind, 'Bhakti Yoga' invokes emotions and 'Kriya Yoga' cultures energy. It is generally a combination of these tailored to each individual that imparts holistic wellness that Yoga is known for.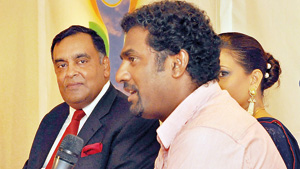 "It's not only about exercise," shares Sri Lanka's favourite spinner, Muttiah Muralitharan. "Even for sportsmen like me, who have to keep fit, Yoga is a time-friendly alternative," he says. Acquainted with the positive effects of Yoga through his mother who took it up in Kandy, he says even if through breathing exercises, it makes an impact. "It's ideal for us because in the little time we have to work out Yoga yields the most results."
A leading lady of the silver screen, SangeethaWeeratane is also endorsing this holistic way of life, Yoga is a common resort to fitness among Sri Lankans. There is however room "to have more people join-in", she says. In putting the event together, the Indian Cultural Centre notes that Yoga is in fact common both in and out of Colombo, with 13 recognised centres in the city alone. All of the 13 these institutions are on board with the continued events at the Indian Cultural centre.
June 22 marks the Felicitation of the 13 Institutes and the opening of a photographic exhibition on Yoga, from 5.30 – 7.30 p.m.
June 23- Yoga Postures for Good Health by Director of Sadhana Yoga Shrushti, Krishnaveni Kulanthaivel, 10.30 a.m.-12 noon.
June 23-Mental Wellbeing, Stress and Anger Management through Yoga by the Founder of Abhina Yoga Ashram, Anoja Weerasinghe, 5.30 p.m. -7 p.m.
June 24- Kriya Yoga Asanas and its Benefits by Dr.SubramaniamThayaparan, 10.30 a.m.-12 noon.
June 24- Deepening into Asanas by Chief Yoga Instructor at the Indian Cultural Centre and Astanka Yoga mandhir, Vyasah Kalyanasunderam – 5.30 p.m.-7 p.m.
June 25- Raja Yoga by Dr.Viji Chandramohan of the Brahma Kumaris Raja Yoga Centre. From 10.30 a.m.-12 p.m.
June 25- Yoga for Balance, on and off the Mat by Angelica Chandrasekeran of the Prana Lounge Holistic Health Centre, from 5.30 p.m.- 7.30 p.m.
More information is available with the Indian Cultural Centre.