St. Joseph's, Mahamaya continue to dominate as five records tumble on day three
By M. Shamil Amit
42nd Sri Lanka Schools All Island Aquatic Championship
View(s):
Defending champions St Joseph's Colombo and Mahamaya College Kandy in the boy's and girls categories continued to dominate when proceedings ended on day three of the 42nd Sri Lanka Schools All Island Aquatic Championship which is in progress at the Sugathadasa Indoor Stadium swimming pool.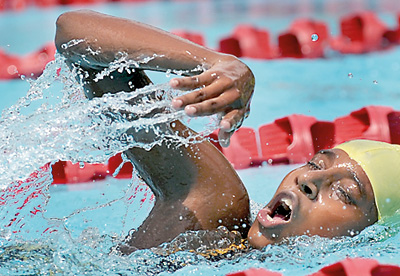 The two schools ended day three with a lead of over 100 points with St Joseph's coming out on top with 443.50 points followed by Royal in second place with 324 points and S. Thomas' in third with 230 points. In the girls category Mahamaya Kandy is way ahead with 447 points while second place Visakha Vidyalala in second place with 274 points and Ladies College in third having received 224 points.
Meanwhile five more records tumbled which brought the tally of new records established for the three days so far to ten. The first day had two and the second day three. Four of the five records to be broken were in the boys' category and one in the girls' category. Three swimmers Imesh Chathuranga of DSS, Akalanka Peiris of St Peter's and Hiruni Sanjana Perera of Harischandra College Negombo achieved their second record breaking feat yesterday.
Chathuranga of DSS established a new record in Boy's U17 200m Butterfly event with a new timing of 2.15.05 eclipsing the record of 2.19.12 set by Cherantha de Silva in 2013. Peiris of St Peter's broke the existing record of 28.78 of Imesh Chathuranga set in 2013 with a timing of 28.73 in the Boy's U15 50m Backstroke event while Perera of Harischandra achieved a new timing of 32.18 to eclipse the record of 33.57 set by Vinoli Siriwardena in 2012. Vinoli Kaluarachchi of Sirimavo Bandaranaike BV also broke the record in the same event with a timing of 33.03.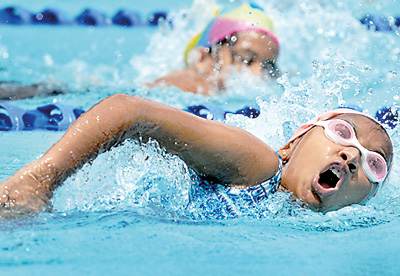 Yahiya Jaffer of Royal Colombo and K. Nugawela of S. Thomas Prep were responsible for the other two records. Jaffer record came in the Boy's U19 100m Butterfly event where he broke the existing record of 1.11.70 set by Amila Perera with a new timing of 1.11.52 while Nugawela's record feat was in the Boy's U15 400m Freestyle where set a new record of 4.35,18 to eclipse the record of 4.35.40 which stood in the name of Chandula Fernando achieved in 2011.
The championship conducted by the Sri Lanka Schools Aquatic Association and sponsored by Nestle Lanka Ltd is being contested by nearly 4200 swimmers with over 2500 in the boy's and over 1600 in the girl's represent 165 schools around the island from three categories boys (80), girls (50) and mixed schools (35). Today is the final day of the championship.