Sathira Shanuka and Nirmali Madushika champion athletes at Southern Province schools meet
Text and pic by P.D. de Silva
View(s):
Sathira Shanuka of Rahula College Matara was named champion male athlete at the Southern Province Schools Athletic Championship for his record breaking performance of 50.1 seconds in the 400metre event for boys Under-21 years while Nirmali Madushika of Kathaluwa National school was named champion female athlete for establishing a new meet record of 58.9 seconds in 400metre event for girls Under-19. Sathira erased the 50.7 second mark established by fellow Rahulite — Vijayasanka Karunarathna in 1994 while Nirmali erased the 60.8 second mark set by Indika Shrimali of Rajapaksa Central College Weeraketiya in 2013.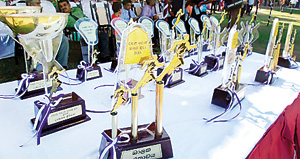 Rahula College Matara with 90 points and Vijitha Central College Dickwella with133 points were the overall boys and girls champs for the second consecutive year. Vijitha Central College Dickwella with 76 points and Dharmasoka College Ambalangoda with 72 points were the runners up while Richmond College Galle with 60 points and Rajapaksa Central College Weeraketiya with 46 points took third spots respectively.
Nine new meet records were established and one was equalled at this year's meet.Sahan Chathuranga of Vijitha Central College Dickwella clocked 15 minutes 45.85 seconds in the 5000metres for boys Under-19 to smash the 21-year-old mark established by Champika Wasantha of Welipatanwila MV in 1994. Nirmali Madushika of Kathaluwa Central College set a new mark of 25.9 seconds for the 200metre sprint for girls Under-19 as well as new record of 58.9 seconds in the 400metre event. Kalani Gayathri Nethmini won gold for the Under-19 girls 100metre hurdle with a new meet record time of 15.53 seconds. Rashmi Nirodha also of Rajapaksa Central College Weeraketiya set a new mark of 11.26 meters for the triple jump for girls Under-17. Viduranga Tathsarani of Vijitha Central College clocked 67.84 seconds in the 400metres for girls hurdle Under-17 and Sathira Shanuka clocked 50.10 seconds for the 400metre event for boys Under-21.
Vijitha Central College's Under-15 boys 400×4 relay team clocked 3 minutes 58.2 seconds and the Under-19 girls 400×4 relay team clocked 4 minutes 21.5 seconds to set the final two new records while Chamindu Bimsara of Rahula College equaled the 22.4 second mark set by five age groups.
This years meet was held over four days at the Uyanwatta Stadium Matara. BoC's AGM Southern Province D.K. Piyasoma and Manager Sponsorship and Activities of Nestle Lanka PLC Ltd Sajeewa Wickremasinghe were the guests of honour at the opening ceremony while Provincial Minister for Sports Weerasumana Weerasinghe was the chief guest at the awards presentation.
Under-15
Boys: Harsha Maduranga of
Kahawaththa MV
Girls: K H Nethmi Meghawarna of
Debarawewa National School
Under-17
Boys: Irusha Malinda of
Richmond College Galle
Girls: Viduranga Thathsarani of
Vijitha Central College
Under-19
Boys: Chamindu Bimsara of
Rahula College Matara
Girls: Nirmali Madhushika of
Kathaluwa National School
Under-21
Boys: Sathira Shanuka of Rahula College
Girls: Sasanga Hasanjali of
Dharmasoka College Ambalangoda