Russel says changes should be made
By Aubrey Kuruppu
View(s):
Before getting down to the nitty-gritty, a few illuminating facts about the cricketing life and times of Russel Arnold, the former St. Peters College, NCC and Sri Lanka player, would be in order. Speaking to the Sunday Times at the Galle International Stadium where he is currently part of the International Panel of Commentators, Russel said has a special affinity with Pakistan. Making his Test debut against them, he started off with a knock of 27, but followed it with a half century in his second game. Hundreds followed, 123 against Pakistan at Lahore, 109 versus England at Old Trafford, and an unbeaten 104 against Zimbabwe at Bulawayo, when he carried out his bat.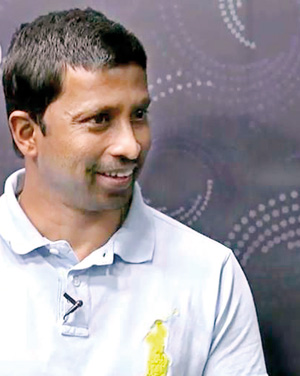 He points to the Old Trafford knock as being one of his best, because Sri Lanka was following on, conditions were tough for batting and, the attack consisting of Darren Gough, Alex Tudor, Andrew Caddick and Ashley Giles, was a good one.
Of his two ODI hundreds Russel is particularly proud of his unbeaten 103 against Zimbabwe after coming in at number five. He says it helped Sri Lanka to recover from 100-7 and reach 213. He toured twice with the Under-19 to England, Malaysia and Singapore. Among his team-mates on that first tour were Chaminda Vaas, Jayantha de Silva and Naveed Nawaz.
Shifting his focus to the 2015 World Cup, Russel believes that the four best teams made the semi-finals. Looking back at the entire tournament, New Zealand was the team to beat, South Africa, he feels, beat a few teams that struggled namely, Sri Lanka and West Indies.
"The Sri Lankan didn't look a well-oiled outfit. The Sharpness was lacking on the field. The only way they could have won was if one of the batsmen had a brilliant day, or if the opponents had a very bad day. To win a tournament, you've got to win the crunch games. The Sri Lankans didn't seem to have that extra edge. Too many players were at the back end of their careers. That T.M. Dilshan, at 38, was far and away the best fielder in the side, tells it all.
"Sachithra Senanayake was flat after his ordeal. Injuries to players considered important to the side, meant that the team didn't get into a rhythm." He justifies the selections for that final game. He is vehement that the think-tank had to think out of the box.
He is excited above the post. Mahela Jayawardena, Kumar Sangakkara scenarios. Young players have got to come forward. The team needs a breath of fresh air. Talent must be identified and encouraged.
With the accent on youth, the selection of Jehan Mubarak has raised many an eye-brow. Russel defends it – says he – "Mubarak deserves a look in. He has made lots of runs. He is more mature, more dominating and, one of the fittest".
Openers Kaushal Silva and Dimuth Karunaratne have shown that they have some quality. It's time they stepped up. As for the young players in the middle order, he feels that they should have more hunger and determination. Sri Lanka has a good crop of pacemen, but keeping them fit is a problem. At the moment, injuries are holding them back.
Russel has an interesting comment when he says that he had to change his style of play to fit in with that of his partner. Sanath Jayasuriya, for one, loved to have the strike. So when batting with the Master Blaster, all he did was to push the single and take refuge at the non-strikers end. Mahela Jayawardena, too, was similar. So when batting with the elegant right-hander, Russel had to make certain adjustments.
Russel deplores, but understands, the tendency on the part of local players who are on the fringe, to play five domestic games and then take off in search of the 'dollar'. If they can be persuaded or enticed to stay back, the standard will improve. Summing up, Russel is of the opinion that the best place to tour is England. After four tours, he picks it because of the different conditions and the different culture.