Champions!
By Aubrey Kuruppu
Green bubble bursts as Royal wears the crown
View(s):
Isipathana's bubble of invincibility was pricked, and spectacularly so, by fifteen blue, gold and blue jerseyed Royal lads who directed all their energies towards victory and did not seem to know the meaning of defeat.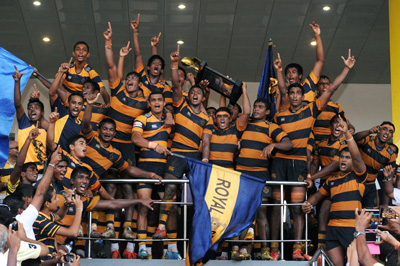 The Royal Complex that was packed to the rafters was roused forth by a brilliant first half performance by Royal who won the Singer Schools League by caning Isipathana by 21 points (3 tries, 2 penalties) to 8 (a try and a penalty).
The much hyped, and much looked forward to game produced few moments of spectacular open play. The Royal back division couldn't quite punch through and they were reduced to a defensive role. They, together with the pack, did this very well. In a forward's battle, the winners were able to touch down thrice through Supun Warnakulasuriya (twice) and Umesh Madushan, number eight and lock respectively.
This battle was won in the planning room. Royal slowed down the pace, put forth an impregnable defence and, having got deep into Patana territory, unleashed their famous rolling maul. Isipathana countered Royal's stock-in-trade on a few occasions. More often than not, Royal gained yards, and yards, by employing this well-tried tactic.
Royal made the more threatening moves early on. Ovin Askey put over a simple penalty to give his team that early, psychological lead. Askey was then put under pressure near his goal-line and was forced to touch down in defence. Isipathana stayed there and were rewarded when winger Dilan Gallage scored an unconverted try to wrest back the lead (5-3).
Royal did not take a simple penalty, preferring to go for broke. This they achieved a while later when Warnakulasuriya scored after the maul had been executed. Royal's lead was short lived as Konghawatte's penalty conversion tied the score at 8 all. Isipathana was not to know that they will not score again.
Pathana's hopes rested largely on the efforts of their inspirational skipper Omalka Gunaratne. He was kept under close scrutiny and could not produce his defence-splitting runs. One particular run in Royal's 22 should have brought forth a touchdown. But, alas, Gunaratne dropped the ball with the line staring him in the face.
Royal used the boot to get close to the Pathana line and, off a maul Umesh Madushan, went over. Askey failed to deliver. Shortly after, in the 33rd minute, he put over a penalty awarded for an Isipathana hand in the ruck. This was the score at halftime. (16-8)
The second half was largely drab and devoid of excitement. Isipathana's handling woes continued while Royal carried out their structural game. Perhaps, they were less intense, having sensed that the game was theirs.
Pathana centre Kushan Indunil was also guilty of dropping the ball five yards or so from the line. Supun Warnakulasuriya, Royal's prolific try scorer, enhanced his already – high reputation by scoring twice. His second was the only score in the second half.
Referee – Aruna Rankothge.