Terrified, asphyxiated, brutalised – the chicken on your plate
By Kasun Warakapitiya
Inspectors find rotting chicken meat, live birds in inhumane conditions
View(s):
The Colombo Municipal Council (CMC) this week cracked down on poultry stalls operating in filthy conditions and seized some 100kg of chicken, sometimes swarming with flies, as unfit for human consumption. They found chickens being killed on top of plastic crates while chickens marked for slaughter were trapped underneath, covered in blood dripping from above.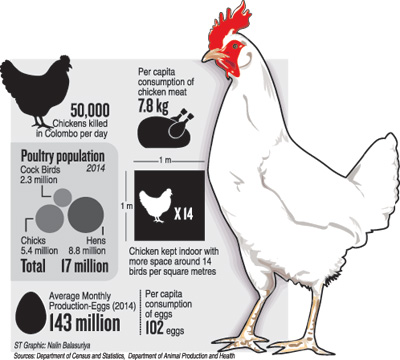 CMC Chief Municipal Veterinary Surgeon Dr. Vipula Dharmawardene led the raids with his team on a couple of poultry shops this week. Some 50,000 birds are slaughtered in Colombo city alone daily in about 500 outlets registered with the CMC.
In one of the shops, the raiding party found the entrance jammed with plastic crates holding more than 20 chickens desperately fighting for space and air, covered in mud and droppings. Most of them were disabled and dying due to lack of space and illness.
Dr. Dharmawardene said in one of the shops he found 36 rotten chickens and in the other, 96 in a similar condition.
Some chicken carcasses were covered with blood and flies. The public health inspectors found freezers used to store carcasses had not been turned on and a chopping board covered with layers of dried blood.In Dematagoda, one shop raided had no electricity or running water. Chicken had been stored in two refrigerators that were not turned on and had no ice.
Dr. Dharmawardene said inedible chicken had been impounded and destroyed. He said in Colombo, raids had netted about 100kg of bad chicken meat but that most of the chicken farms, factories and slaughterhouses are situated in outstation areas where conditions were reported to be worse.
He said action would be taken against shops under legislation governing the slaughter of animals as well as the Butcheries Ordinance which grants slaughterhouses licences on slaughter, storage and sale of meat. Dr. Dharmawardene explained that these acts make no mention of poultry, which means the council could only take action on the condition of the butcheries and the quality and condition of the meat.
He said it was necessary for separate Acts that govern separate governmental bodies to be combined, naming the Butcheries Ordinance, Food Act, Municipal Act and Animal Act. This would give offenders fewer opportunities to escape through loopholes in the laws.
He also suggested the government should draft a Poultry Act to counter bird meat production issues. "Most of the small-scale slaughter houses are unclean places with blood smeared everywhere, logs used as cutting-boards, meat hung on unwashed metal hooks and chickens with broken legs and wings kept starved and birds found dead on the floor," Dr. Dharmawardene said.
He said poultry should be transported during night or early hours to reduce the strain on the birds. He said officials had seen chickens being transported in the midday heat, stuffed into small plastic boxes that barely give them space to breathe.
Most of the birds sustained injuries during transportation and three-quarters of the birds were found dead in the plastic crates. Live animals transported over a period of 24 hours should be supplied with food and water, Dr. Dharmawardene said.
He said chickens being transported were covered in dropping from chickens stacked above them in the crates, and this caused disease to spread.
The Animal Act Amendment of 2012 included a space requirement according to which chicken being transported could not be kept more crowded than 14 birds per square metre but that poultry was being transported so badly that even chickens that were bred healthy became deceased during transport.
Dr. Dharmawardene also said slaughter was carried out violently unlike methods used in other countries were a non-lethal charge of electricity was used to stun the bird into an unconscious state before slaughter.He said slaughterhouses had to have basic requirements such as low temperatures and tiled floors with domed corners that could be easily cleaned, and chillers to store fresh meat. Cutting-boards, knives and meathooks needed to be washed and not be bloodstained.
He said although there were 17 million chickens in poultry farms, amounting to industrial-level farming, regulations regarding poultry production had not been implemented. "Old laws must be renewed and we should have done it earlier," he said.
Dr. Dharmawardene also emphasised a good regulatory system was needed to deal with potential crises such as avian Influenza (bird flu) infecting mass-scale farms.
Other health risks as salmonella and iconella could cause food poisoning and allergies, even death. CMC Chief Medical Officer Dr. Ruwan Wijemuni said that most poultry products come from the suburbs and chicken meat needed to be transported in a temperature below 18C.
He said if blood was not drained or the carcass not kept frozen bacteria such as iconella and salmonella could contaminate the meat while badly-removed feathers could damage the skin of the bird and result in bacteria infection that could cause serious food poisoning.