Reckless driving now a part of Lankan road culture
By Chathuri Dissanayake and Aanya Wipulasena
View(s):
An ordinary drive back home from a trip to Bandarawela suddenly took a dangerous turn for P. Janith, 28, when a bus overtaking his vehicle narrowly missed killing him. "I drive a car and sometimes travel long distances. Recently, when I was returning from Bandarawela with my fiancé we nearly met with an accident. A bus attempted to overtake my vehicle from the wrong side at high speed," recalls the schoolteacher from Malabe.
"The vehicles in the opposite lane had to stop to avoid a bad accident." Working in passenger transport, bus drivers should be among the most disciplined drivers but, points out Mr. Janith, many commuters think that they are among the most reckless.
Official figures show that every four hours one person is killed in a traffic accident, former DIG, K. Arasaratnam said, highlighting the gravity of poor driving, not just with buses but others too. The fatalities peak during festive seasons such as April New Year, Vesak, Poson, the August holiday season and Christmas.
Chandrakumari Alwis, 48, a housewife from Maharagama agrees with Mr. Janith. As a mother who travels regularly with her children on buses every day mostly on the 138 bus route (the High Level Road) a main access route to Colombo used by thousands of commuters every day, she has plenty experience concerning the lack of discipline of bus drivers.
"None of the bus drivers in this route consider the safety of passengers or pedestrians. They go fast as they race each other," she said. "It is very hard for the children to hold on to avoid falling and becoming injured." Bus drivers are frequently on their mobile phones while driving, Ms. Alwis said, highlighting another common traffic rule violation by those responsible for the lives of hundreds of passengers every day.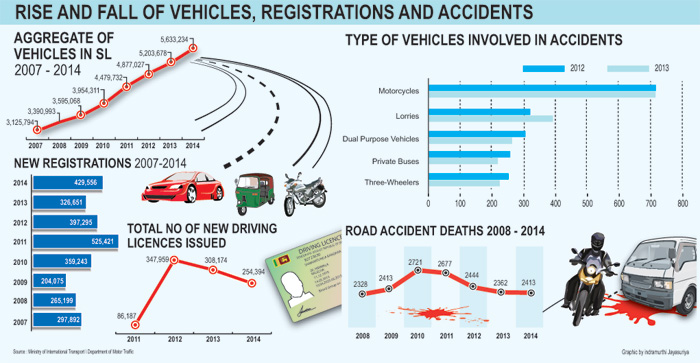 Racing by bus drivers and three-wheel drivers is a cause of major accidents, Police Deputy Inspector-General of Traffic, Amarasiri Senaratne said. "We regularly try to bring them to book," he said. "We have only 20,000 buses compared to more than 800,000 three-wheelers. If you take traffic court cases we have filed, there is one case against buses to every 10 cases against three-wheelers. We do not ignore their wrongdoing," DIG Senaratne insisted.
Former DIG Arasaratnam cited disregard for road rules and recklessness as major causes of accidents."Most drivers fail to consider other drivers when they are on the road. They overtake vehicles not considering where and when they should do it. These roads rules are violated mostly by three-wheeler drivers and motorbike riders," Mr. Arasaratnam said.
"Youngsters manage to pass the driving exam but fail to follow what was taught them," he added.Nimal Gunasekera, 56, a driver from Piliyandala whose job is to take children to school, experiences this every day. "Most of the time problems are caused by three-wheeler drivers and motorbike riders, who do not understand the road rules. Some three-wheeler drivers don't even use the signalling lights of the vehicle and also overtake in the wrong side" Mr. Gunasekara said highlighting his daily challenges.
"In my job I have to be very careful because all the lives of students I take to school are in my hands but with reckless drivers in the road this is not easy". Motorcycle riders, usually with passengers riding pillion, are the biggest road rule violators and make up the highest number of fatalities, followed by three-wheeler drivers and their passengers. Accidents involving lorries are the third highest category.
With more than 800,000 three-wheelers on the roads, reining in trishaw drivers has become a tough job for the police.
According to police records, most of accidents happen on long stretches of straight roads, where the driver loses alertness and there is a greater possibility of them falling asleep at the wheel.