Ratnapura to be first child-free Labour experiment
By Anushiya Sathisraja
View(s):
The National Child Protection Authority (NCPA) has launched its first initiative, to introduce a Child Labour Free Zone in Ratnapura district by next year. NCPA Chair Natasha Balendran said child labour cases were reported highest in the Ratnapura district and hill station areas.
"The reason that Ratnapura district is the first to conduct the initiative is because it has many large-scale and small scale plantations where child labour is prominent," she said. She said the NCPA was carrying out further investigations because it was able to track only 200 children against 4,000 child labour cases reported in Ratnapura district.
If the Ratnapura project succeeds, it will be implemented in other districts. Mrs. Balendran said more than 100,000 children below the age of 14 years are employed as child labour in Sri Lanka.  "Carrying heavy loads, fishing in the sea, spraying pesticides, using dangerous machinery, being in unsafe environments where they suffer from work-related danger, will harm their progress," she said.
Mrs. Balendran pointed out that it was very difficult to combat child labour where the standard of living was low.
The NCPA works for the protection of the children affected by child trafficking, institutionalised children, children abandoned by parents or guardians and children whose families are undergoing traumatic incidents.
It has set up child protection committees in many schools around the country, responsible for ensuring that children recieve an education. Ms. Balendran said the Department of Labour every year reported the worst form of child labour – a large number of boys trafficked for commercial and sexual exploitation in coastal areas as a part of the sex tourism industry.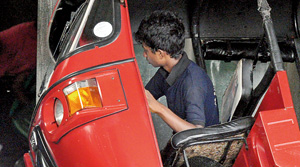 This year, a Child Activity Survey will be carried in all districts including North and East for the first time. The Chairman of Uva Shakthi Foundation in Badulla, Suresh Nadesan, said there had been a great increase in the school drop-out rate in the area and that children working in the plantation sector were mostly under Grade Five age.
There are child probation offices in Badulla, he said, but they were not working effectively with plantation sector families.
"The government should help to improve the standard of living in the estate sector," Mr. Nadesan added. A majority—66.3 percent—of children from 16,000 households surveyed by the Census and Statistics Department in 2008 were working in "elementary occupations" at the age group of five to 17 years.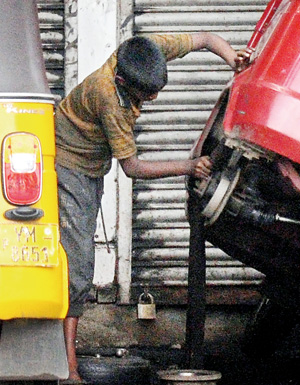 They include "street vendors and mobile vendors, street services, domestic helpers, agricultural and related labour workers, labourers engaged in mining, construction, manufacturing, transport and related workers, etc." According to the survey, 12.9 per cent of the child labour population was aged five to 14 years – the period when school attendance was compulsory.
The overwhelming majority, 80.8 per cent of the child population, was engaged in economic activity.The survey says the average work time of children aged five to 17 years should be 13.3 hours per week.Labour Department Women and Children Division Commissioner Padamanathan Mahadevan said children in employment who work for more than 43 hours a week in any industry are considered to be engaged in hazardous forms of child labour.
The largest segment of child workers – 40.6 per cent – is in the manufacturing industry, followed by the services sector at 35.6 per cent. The participation rate in child labour in the agricultural sector is 23.8 per cent nationally but in the estate sector, child labour is highest in the agricultural sector with 49.4 per cent, Mr. Mahadevan said.
According to law, the minimum age for employment was 14 years as under the Education Ordinance it was mandatory for a child to attend school until the age of 14 years. Mr. Mahadevan added that children in working environments, due to their physical and mental immaturity, require guidance and protection and it was the responsibility of society to provide such guidance so that children would not go astray.
A senior police officer in the Women and Children Bureau said an employer could be fined Rs. 10, 000 or given six months' imprisonment for employing an under-age child. The Country Director of the International Labour Organisation (ILO), Donglin Li, said Sri Lanka had a good schooling system compared to other South Asian countries.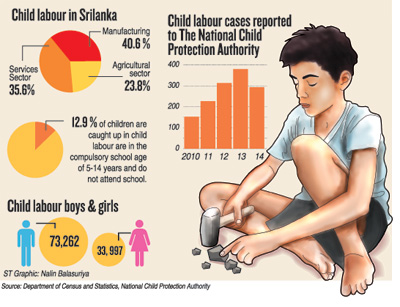 "There is a major improvement in child labour compared to past statistics," he added. The Sri Lankan government and ILO constituents this year planned a series of activities to commemorate World Day Against Child Labour including the issuance of a stamp and first day cover. "All these awareness events and raising programmes are expected to contribute to achieving zero tolerance of the worst forms of child labour," Mr. Li said.
The ILO has supported the Department of Labour to introduce the inspection system called Labour Inspection System Application (LISA), he said. "Many children are working in hidden and confined spaces away from their homes. This is an electronic form to monitor, record and track the prosecutions of child labour," Mr. Li said. "From my side I'm very confident that Sri Lanka has achieved and was able to reduce child labour but we still have a long way to go."