Poisons centre docs throw the booklet at jellyfish
View(s):

Sunny and humid days and the blue waters of the Indian Ocean gently lapping on the shore beckon a large number of men, women and children to take a swim or at least dip their feet in the frothy tide.  "Certainly do, but watch out for those beautiful but venomous jellyfish," warns Dr. Waruna Gunathilake, Head of the Toxicology & National Poisons Information Centre at the National Hospital in Colombo.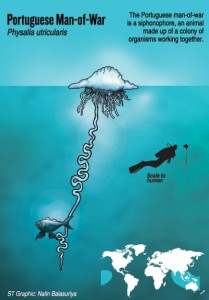 The National Poisons and Information Centre has published a booklet outlining the different types of stinging jellyfish floating along our coast. It also explains in brief the first-aid which should be administered if someone comes into contact with them. The booklet has been produced with the expert input of Dr. Malik Fernando, not only a medical doctor but also an ardent diver and marine naturalist.
Quoting the booklet, Dr. Gunathilake says that jellyfish are not fish but primitive invertebrates that belong to the larger group — phylum Cnidaria. This group also includes corals, sea fans and sea anemones.
"Some jellyfish have barbed threads long enough to penetrate human skin and inject venom," adds Dr. Fernando.
Here are the stinging jellyfish identified off Colombo by Dr. Fernando:
Physalia utricularis (Portuguese man-of-war or blue bottle) – This jellyfish consists of a gas-filled float with a cluster of short and long tentacles attached to the underside. It floats at the surface and is driven by wind and currents. It is washed up on beaches during stormy weather and even such a jellyfish is capable of giving a sting, so people are strongly advised not to touch it. It gives a potent sting.
Nuisance jellyfish (Hydromedusae) — One to three centimetres across, these small transparent jellyfish occur in large swarms. Unseen by the swimmer or diver they give a mild sting, wherever they touch, causing much discomfort.
n Chrysaora quinquecirra (Compass jellyfish) – This is a potent stinger. The thread-like tentacles can extend up to 1 to 2 metres and cause an irritating pricking sensation.
Cyanea purpurea (Lion's mane jellyfish) – Commonly 12 to 18 inches in diameter, sometimes it can go up to three feet. Its sting is mild. n Chiropsalmus buitendijki (Indian Ocean box jellyfish) – It causes instantaneous painful stings and these stings lead to skin pigmentation which takes three to four months to disappear.
Meanwhile, Dr. Gunathilake requests people to report jellyfish stings to the National Poisons and Information Centre on Phone: 011-2686143. Information on jellyfish could also be sought from this number.

Different reactions
While different types of jellyfish would bring about different reactions, some of the 'immediate' reactions would be pain (local), weals, reddening, blistering, pain spreading through a limb involving regional lymph nodes, agitation, distress, raised heart-rate and sweating, it is learnt.
Dermal pigmentation occurs later following a box-jellyfish sting, says Dr. Malik Fernando, pointing out that allergic reactions from jellyfish stings are rare.
"Sri Lankan jellyfish are not dangerous and usually their stings do not need specific treatment except in the rare instance of an allergic reaction," he adds.
Pre-historic jellyfish 'stuns' modern man with venomous sting
At least four persons were hospitalised after a jellyfish attack yesterday in Polhena, Matara, prompting police to cordon off the area, officials said. Sea-bathers were told to move away from the area after jelly fish was spotted in the area. The incident follows a similar attack in Mt Lavinia last Sunday when 17 persons were hospitalised.
The victims of last Sunday's jellyfish attacks developed pains, itching, and rashes, while those who developed severe allergies were taken to Kalubowila Hospital for treatment. Dr Malik Fernando, a marine naturalist and medical doctor, who is a regular visitor to West coast beaches, identified the species responsible for the attacks as Portuguese man-o'-war (Physalia utriculus), also known as bluebottle jellyfish. During the monsoon season, this species are present in the seas along the western coast.
Primitive invertebrates that lived on earth even before dinosaurs ruled the world, jellyfish belong to a group that includes corals, sea fans and sea anemones, and capture their prey by shooting venom-packed darts from structures called nematocysts.
Jellyfish have tiny stinging cells in their blue tentacles to stun or paralyse their prey, which is then eaten through an opening in its bell-shaped body that serves as both mouth and waste exit.