The Palmyrah revamped : Elegant new setting to enjoy authentic Sri Lankan cuisine
View(s):

Renuka City Hotel's reputed Palmyrah Restaurant, recently relaunched after a complete renovation, heralding a new calibre in Northern Sri Lankan dining experiences. From the interior to the menu, the Palmyrah Restaurant presents a sophisticated setting with unmistakable accents alluding to its Northern roots.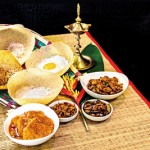 The restaurant's new interior, designed by Dipika Dharmadasa of DDN Design, incorporates elements of traditional Jaffna life. The entrance, adorned with an artefact of a Palmyrah leaf, welcomes diners instantly to the exotic ambience, while the woven effect of the restaurant's wallpaper reflects the many thatched Palmyrah leaf products in the North.
The decor sets the perfect balance between traditional and contemporary with framed black and white photographs of old Jaffna, hanging antique bells used in kovils and small woven boxes, made out of Palmyrah leaves, as table centrepieces. The boxes are handwoven by women of the North, through an Island Craft project designed to empower those affected by the conflict with livelihood initiatives and opportunities. The elegant seating areas are decorated with turquoise chairs and purple cushions, the two primary Kolum colours used to adorn kovil floors. Every element of the restaurant is designed with a focus on portraying the atmosphere of traditional Jaffna. The new enhancements showcase the allure of vintage Jaffna and place it in a modern environment, giving diners a chance to experience its rich culture right here in Colombo.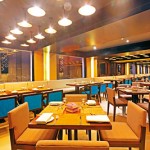 Centrally located in Colombo 3, the amazing food of Northern Sri Lanka is served at your convenience at Palmyrah. The brainchild of the late Alfred Leo Thambiayah, the concept behind the restaurant was to share his ancestral cuisine with the rest of the country. His dedication to uphold the standards of perfect quality, service and ambience, has been the foundation of the 43-year-old restaurant's unwavering reputation as the finest place in Colombo to experience genuine Sri Lankan gastronomy.
Maintaining the traditional family recipes that gave the restaurant its impeccable reputation, Palmyrah's signature dishes such as Jaffna Crab Curry, Ghee Thosai, Mutton Poriyal, Prawn Curry, Raal Varai, Porichha Meen Pittu, Milk Hoppers and Jaggery Hoppers continue to live up to their name.
Renuka Hotel's banqueting menu also incorporates food from Palmyrah and can be served at private events hosted at the hotel's many conference rooms or at any venue its outside catering facility.
For more information contact 112 573598.