Mellow sounds
By Namali Premawardhana
View(s):
Newbies went first at the Melomanic sessions a few weeks ago and Talal from the last session's performance thrilled with his mellow sounds. He is not a newcomer to the music scene, with his single "Hell No V.E." steadily climbing the Yes Home Grown Top 15. He is a decent imitator of Jason Mraz, but is best liked on his "hell no", which is fluid and easy. Talal's upper lines are clean with just the right touch of don't care on some interesting loose-ended phrases. Smooth is the word.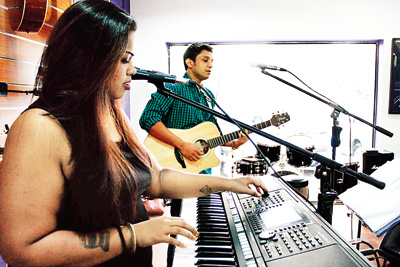 Everybody – following the new melo rules – had at least one (actually most had two) original song to perform, and one of Nikhil's was by far the most intriguing. He sang a song about when the "Joker" strips. He called it "a little mellow", but we were just not prepared for how beautiful, insightful and horribly ironic this was. It did get a tad repetitive but it's a brilliant piece of work nevertheless. Impatient for this to get on the radio waves!
The show-stealer of the night, hands down, though, was Salvage. They took the game to a whole new level with their rough-edged, hard-hitting, mind-boggling and downright hilarious version of 'NSync's "It's Gonna be Me". Yes, the Melomanic Sessions are known for their laid back acoustic music, and no, boy-bands don't really feature there, but CC, Asela, Natasha and Shehan picked up this pop number, wrung it 'til it was cleverly twisted and (albeit all the disbelieving-laughter-inducing) made it work.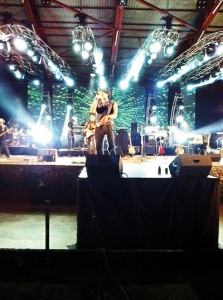 The At Last Project had the last word with Naomi's husky-sparkling voice. It's really interesting to see pros like Dilan Jayakodi and Naomi Wijemanne working their way into recording and airplay – Naomi and Dilan are both on the Yes Home Grown Top 15 right now – a promise of more performance bars being raised for sure.
Rustic Homewares in Rajagiriya was teeming with easily over a hundred people by the time we'd got into the third set, and the crowd just kept flowing in all night.  The Melomanic Sessions are clearly becoming the place to catch the best range of live original music in Colombo. Even hip-hop is slyly making its presence felt at the forum, what with Housni Yakoob featuring some rhymes at the March Melo and Melissa Stevens taking a whole set this time around with her word-smithery.
If you like to chill out and just hear some good music and have not been to melo yet, then watch their Facebook page for updates – July is probably the time!