King of Calypso bid adieu
By Susitha R. Fernando
View(s):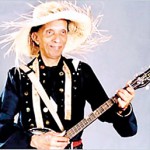 The founder of calypso, a unique genre of Sri Lankan music, Noel Brian Ranasinghe bid farewell to music last Friday, June 5. Noel played a major role in shaping and forming one of the foundation music styles for Sri Lankan pop music with his brainchild 'La Ceylonians' musical band. The band even won international recognition for their unmatchable music with guitar, banjo and congo drum, a tradition that continues even today. His style of music caught on like wild fire and won many fans. His evergreen songs which he wrote, composed music and like 'Hoiya Hooiya', 'Tharuna Jeewithe ape', Malee Ruwanmalee', 'Indunil Miniketa', 'Kandy Perahera' and many more will live forever in the hearts of Sri Lankan music lovers.
However Noel's journey was not easy as his novel music with simple outfit of sarong and hats were laughed at and even hooted. But he proved that his music was far excellent and even could out do international standard when he reached the final five bands at the World Music festival in Japan in 1976.
A Presbyterian by religion, English the language he used more often, Noel was a true patriot and a Sri Lankan and made almost all his songs to promote Sri Lanka, its beauty, culture, traditions and even Sri Lankan cricket. With full of love for the country, Noel did a separate collection of songs titled 'Sri Lankan Isle of Paradise' to promote Sri Lanka.
Won the popular title as the 'King of Calypso' in honour of Noel's contribution to the music and the country he was honoured with a state honorary award 'Kalabushana' by the Cultural Ministry last year. Die hard warrior for the rights, Noel has to fight many a battle to protect his creations against the vultures in the music industry who preyed on innocent musicians like Noel. Not only he fought but encouraged other artistes too to stand up for their precious creations and not to allow them to be misused. Not only locally Noel has managed to win his rights internationally and he is one of those handful of those Sri Lankan musicians who is a member of the British Performing Rights Society and received royalties.
Noel strongly believed in the true unplugged music that is not adulterated by electric gadgets and sound equipment. In his own words he spoke about this issue about 10 years ago. "It's time – musicians decide whether to be real, do it the real live way, or, be the slaves of machines. I love my music, and will always strive hard to keep it up – until I am carried away in a box".
'Noel, thank you for the music and Calypso'…