Chef Disa runs top French Restaurant in Brooklyn NY
View(s):
Chef Chalaka 'Charles' Disanayake is a Marketing consultant who switched careers to focus on food and has made unpresidented strides in the New York Culinary Scene. To be given the role of Executive chef of a Multi-million dollar Fine Dinning French Restaurant 'Vis-à-Vis' with as a Self Taught Chef with comparatively little experience compared to other New York City Executive Chefs is highly Commendable.
Charles is a Multi award-winning, self-taught chef and culinary artiste in global contemporary cuisine and the proud owner of One World One Kitchen, which caters to an exclusive New York Clientele including celebrities such as Neil Patrick Harris and top fashion designers Naeem Khan and Tyler Alexandra Ellis. Charles is also the Executive Chef of Vis-A-Vis, a high-end contemporary French restaurant in Brooklyn.
Originally hailing from Sri Lanka, Charles has grown up and lived within many cultures and traditions including Ethiopia, Nigeria, England, Mexico and the United States and his global influences continue to inspire him. He loves to merge cooking techniques and elements from all over the world to create interesting, synergistic and flavourful dishes. As a culinary expert, he is known for creating his own unique brand of cuisine with an emphasis on innovation while incorporating complex layers of flavours and textures to each dish.
Chef Charles' special blend of cuisine is created with influences from French, Italian, American, Japanese, Thai, Chinese and Mediterranean along with his roots in South Asian cooking. After switching careers from marketing at top consulting firms to food, Charles has made a lot of progress within his short five years that he has been in the New York culinary scene. Charles has set up two fabulous restaurants in Sri Lanka along with setting up One World One Kitchen and was selected to be the Executive Chef of the multi-million dollar 170-seat restaurant Vis-A-Vis. In his free time, he consults for restaurants including Michelin-starred Devi NYC and hosts his own signature brand of Supper Club dinners in top restaurants in NYC and venues around the world. The sign-up list for Charles' dinners are typically long and in high demand and the Chef Charles Supper Club dinner series was rated among the top five in NYC by 'Business Insider '.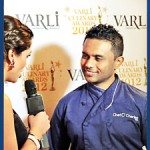 Charles has been passionate about food since an early age and finds immense pleasure in cooking for people and creating memorable culinary encounters. Charles has an MBA in marketing and over 12 years of experience working for top global management consulting firms and advertising agencies.
He is the winner of the 2012 National Food Experiments Competition and had a 3-month apprenticeship under famed Top Chef Anita Lo at her Michelin-starred restaurant Annisa.  'Chef Charles' is the winner of the highly coveted U.S National Food Experiments 2012 Tour. This was an Annual National Cooking Competition sponsored by the Brooklyn Brewery.
Printed and published by Wijeya Newspapers Ltd.
on Sunday June 21, 2015 at No. 8,
Hunupitiya Cross Road, Colombo 2.