'In Space': Hot Butter Collective's immersive exhibition
View(s):

Imaad Majeed reclines on a low chair and we almost step over him. He startles us with his instructions; "go ahead-pick a phrase." Imaad, 24, is one of Colombo's most talented young poets and tonight he promises an impromptu performance to end all impromptu attempts. We are to pick Imaad's words for him from a bunch of Economist magazines taped to one wall, and paste them on the other blank wall he has set up. He will, at the end of the night, make poetry out of those phrases.

Imaad's exhibit was one of many at Thursday's (June 4) 'In Space', an immersive exhibition at the Barefoot Gallery and Café. "The idea came to us while we were sitting in the café actually," says Rehan Mudannayake, giving us a quick interview earlier that evening. "We wanted a space that would invite people to come and really immerse themselves in the art instead of drifting off to socialise."

True to their word, the ingeniously named Hot Butter Collective (as they came to call themselves) delivered on that promise with In Space. The exhibition (which sprawled over the gallery and café area) was set up as a maze of sorts, beginning with Poornima Jayasinghe's obstacle course 'Obstructions, extractions' made of wood, cardboard and twine that guests squeezed and ducked their way through to arrive at Shanika Perera's 'Bill Boats', a participatory piece that required us to stick tiny little paper boats onto a foam board in whatever manner we chose. We are later told that Shanika had accumulated four years' worth of receipts which she used for her piece.

Having had fun, but not particularly inspired, we move on to Kavan Balasuriya's 'Dualism', an arresting half-painting, half-installation using acrylic, bleach, graphite and pastel techniques on cotton. It has begun to rain by this time and we huddle beneath an awning a good five feet away from the installation -which is mercifully large enough to be seen from that distance. Kavan, we find, is standing next to us observing the reactions to his work. He explains that he created the geometrically oriented piece over the course of a month using different techniques and materials for an end effect he wasn't quite certain of at first. "I'd say its part-drawing, part-painting and sculpture," he says.

Next, we step inside the gallery for Rehan Mudannayake's 'Elsz: Blue Scar'; an experimental six-minute film he filmed over a two-year period about his friend and musician Elsz. Blue Scar started off as a music promo for Elsz, which later evolved into a much more personal narrative about the singer and musician. It unravels in two parts with no dialogue. We were interrupted quite frequently by guests who insisted on carrying out (loud) conversations throughout the video installation, but nevertheless enjoyed it for its vivid imagery and soundtrack.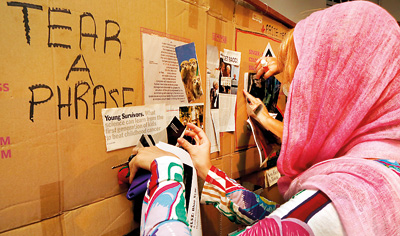 The name 'Blue Scar' is derived from Hindu mythology, Rehan had explained to us earlier that evening. According to myth, God Shiva drank the poison Vasuki, king of serpents, threatened to spread across the seas and the blue venom burned his throat and left a permanent blue scar. "We talk about pain and sacrifice and how that has found an outlet in the form of music," Rehan says. It's very personal-how does he pick his subjects, we wonder, and delve into their personal life? "I tend to gravitate towards other artists more often than not," he explains. "Plus it's very important that we like and respect each other because we end up spending a lot of time together." Elsz, whom we bump into next with her harp, has the same to say-"it was so easy talking to Rehan because we're good friends-it was a fun film to make!"
Elsz and Venuri Perera were also scheduled to perform later that night. Elsz, at her harp, and Venuri with a live art installation. The exhibition route ended with Larry T. Hill's 'Chinese Whispers', a closed 30-minute session for guests who were encouraged to submit their secrets and Larry, who would rap using the material.
In Space was an unexpectedly fun, lively evening that delivered on its promise. While guests did socialise they did so in between sessions, happily making their way through the obstacle course, pinning paper boats and enjoying the art. The haphazard cardboard structures that guided participants from one exhibit to another were quirky (if slightly clumsy). The interactive exhibits in particular were inclusive and thought provoking, encouraging commentary and response.
So keep an eye out for more exhibitions by the Hot Butter Collective-we strongly recommend you make your way there next time, if only for an evening of excellent entertainment but also for some though-provoking art.