Southwest monsoon to bring relief from heat and humidity
View(s):

Meteorology Department (Met) officials say that temperatures should decrease but humidity will remain fairly high at 70%-90% in the forthcoming weeks. Met Dept Director General L. Chandrapala said Anuradhapura would experience a daytime low humidity of 60% during the southwest monsoon season, while Kandy's daytime humidity would usually range from 70%-79%.

"Southwest monsoon rains are expected at any time of the day and night in the southwestern part of the country," he said.
"Windy weather during the monsoon eases the warmth that prevailed during the inter-monsoon period," he added.
"There will be several spells of showers in the Central and Sabragamuwa Provinces, and in the interior of the Western Province," he said.

"The seas from Puttalam to Trincomalee via Kankesanthurai, and the seas from Galle to Pottuvil via Hambantota, will be rough at times, as winds can strengthen up to 50-75 kmph," he said. Met Dept Duty Forecaster Sajith Wickremasooriya said heavy showers and thundershowers were reported from the CP and moderate showers from the WP.

"The highest rainfall of 117 mm was reported from Elkaduwa in the Matale district, while the lowest of 51 mm was reported from Hilpanakandura (Bandarawela) prior to this week," he said. "Late this week the highest rainfall of 107.4 mm was recorded in Neboda (Kalutara District)," he said.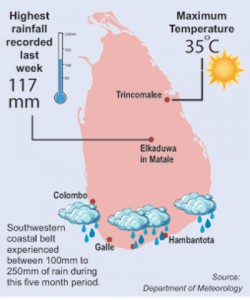 "Surface wind was South-westerly in direction and about 10-20 kmph in speed, but during thundershowers wind speed around the sea area can increase up to 70-80 kmph," he said. "Early this week, a maximum temperature of 35.7 degrees centigrade was reported from Trincomalee and Pottuvil, while a maximum temperature of 37 degree centigrade was reported from Polonnaruwa two days back," he said.
"The Southwestern coastal belt will experience between 100 mm and 250 mm of rain per day during this five-month long period, while the lowest figures will be recorded from the Northern and Southeastern regions," he added.
Former Director of Meteorology K.R. Abhayasingha says that, during this monsoon season, southwesterly wind streams usually originate from the high-pressure regime in the South Indian Ocean.
"Southwesterly wind profile up to a height of about six to eight km in the atmosphere will bring a lot of moisture from the Indian ocean," he said.
With a good monsoon wind flow with speeds exceeding 40kmph, the moist air is dragged up to the central hills. "In such situations, showers and thundershowers are experienced over the hill-country, bringing fairly heavy rain to the hydro catchments," he said.
Lady Ridgeway Hospital Director Dr W.K. Wickremasinghe said that illnesses due to heat is potentially life-threatening because of high humidity. "Because the body can't release heat efficiently, it can lead to heart stroke, characterized by vomiting, dizziness, headaches, muscle cramps and a rapid drop in blood pressure," he said.
"Remedy for increase in humidity is to refrain from excessive exertion and to drink plenty of water, as dehydration is a frequent cause of heart stroke on hot days," he said.