National Archives lifts its periodic veil
By Chandani Kirinde
View(s):
The Department of National Archives has declassified a significant number of reports of inquiry commissions, presidential commissions and committees– chief among them being the Bracegirdle report of 1937 and two Criminal Justice Commission reports, one on the 1971 insurgency and the other on foreign exchange offences.
National Archives Director, Dr Saroja Wettasinghe said the reports were declassified in keeping with the regulations under the National Archives Act which allows for records deposited with the Archives to be open for public inspection after the lapse of a minimum period of 30 years."We have been opening up to the public classified reports from time to time, but this time a larger number were opened. Some significant ones such as that of the Criminal Justice Commission which sat from 1972-1976, to try those involved in the 1971 insurgency are among these," she explained.
Consisting of 29 volumes and running into nearly 11,000 pages, it's the first time the Commission's report has been released in its entirety, even though sessional papers of it were printed from time to time," she added. Public records are handed over to the National Archives, at which point some are already categorised as "Open" and put in the public domain immediately. However, those categorised as "Closed", cannot be accessed, except under special circumstances, until the lapse of 30 years, or even longer in some cases," said Dr Wettasinghe.
The latest set of records made available to the public includes 42 inquiry commission reports, 17 Presidential Commission reports and five committee reports. Among the Commission of Inquiry (CoI) reports released are the Bracegirdle Commission report of 1937, CoI on Parliamentary Bribery (1960), CoI on Peradeniya University Ragging (1972-1973), CoI on Telephone Tapping (1966), First Delimitation Commission (1946) and Kandy Peasantry Commission (1949).
The Presidential Commission reports now open to the public include the COI into ragging at the University of Ceylon- Vidyalankara Campus (1975), Criminal Justice Commission (Insurgency 1972-76), COI into Air Crash at Katunayaka ((1978-79), Sansoni Commission on Ethnic riots (1977-80) and CoI into Sri Lanka s participation at the 9th Asian Games 1982 (1983).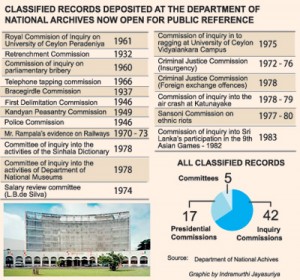 The committee reports that can now be accessed are the Committee of Inquiry into the activities of the Sinhala Dictionary (1978), one that looked into the activities of the National Museum (1978), as well as the Salary Review Committee (L.B. De Silva- 1974).
"Of the 189 public reports that have been deposited with the National Archives, starting from the 1930s, 64 have been declassified to date, said Dr Wettasinghe.
"Meanwhile, the Department of National Archives is in the process of digitalizing some of its records. The Times collection consisting of 278,000 photographs are now being digitalized to enable the public access them online," she added.