Vesak lantern competition at a leading hotel
View(s):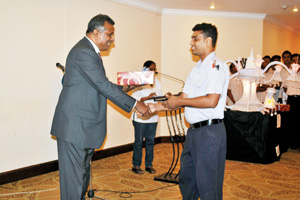 Interdepartmental Vesak lantern competition-2015 at the Galadari hotel organised by for the 11th successful year was held in commemoration of the Vesak. A large number of lanterns representing all the departments of the hotel competed and the panel of judges consisted of musician and singer Lakshman Gunasekara, singer Rohana Siriwardena and Features Editor of the Lankadeepa newspaper Samantha Yahampath.
The first place was won by the kitchen department while the second place was won by Engineering department, and third place Laundry Department of the hotel. Fourth and fifth places were won by F and B-Room services department and Housekeeping department respectively. On the request General Manager Sampath Siriwardena five other gifts were presented.
The awards and gifts were handed over by General Manager Sampath Siriwardena, Financial controller, Upali Perera, Human Resources Manager, Shirani David and members of the panel of judges.
The event was compered by former Galadari employee and present SLBC announcer Niranjala Basnayake and Human Resources Manager, Shirani David and Training and Development manager Kavinda Rankottiwela were instrumental in organising the competition.