SAARC kudos for 'Motor Bicycle'
By Susitha R. Fernando
View(s):
Sri Lankan film 'Motor Bicycle' debut direction of Sameera Rangana Naotunna won the main awards at this year's SAARC Film Festival held in Colombo last week. The film produced by Suranga Jayasuriya and starring Dasun Pathirana, Samanalee Fonseka, Veena Jayakody, Mahendra Perera and Kumara Thirimadura won the Best Film and the Best Direction awards.
The other Sri Lankan film 'Patibana' (Perception) directed by Rabin Chandrasiri won the Best Direction award. In addition to these two films, Nayana Sandya Chandrasinghe's short film 'Dreams,Weavers and Viewers' won the Jury's special award.
The film revolves around Rangana who is a young musician from the working classes who dreams big. His aim is to rise above his station, even as he toils the low-rent barroom circuit with his band, playing night after night to under-appreciative crowds to make a frugal living. Tanya is the love of his life, the woman for whom all this will be worth achieving. She is just finishing school. As he toils through the nights, his need of a mode of transport – a motor cycle – becomes more and more apparent.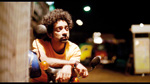 He dreams of one day making enough money to buy one, finally buying a second hand motorbike despite his mother's great protest. He now wants to taste his new found freedom with his beloved Tanya, along the city streets of Colombo. As Rangana and Tanya embark on this motorbike journey across the city, questions about their present, challenges to their future and the very essence of their lives is brought to the fore, in "Motor Bicycle."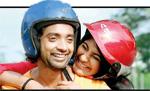 Music is composed by Ajith Kumarasiri.  This is the fifth time since its inception that a Sri Lankan film won the Best Film award at the SAARC film festival. Earlier Athula Liyanage's 'Bambara Walalle' (2011), Prasanna Vithanage's "Akasa Kusum' (2012) and Sarath Dharmasiri's 'Suwisi Wiwarana' (2014) won the prestigious award.
The 2015 SAARC Film Festival was held in Colombo from May 26 to 31 showcasing films from the region. The Festival was aimed to provide a platform for an exchange of ideas and shared points of view of film directors from the region. A reputed panel of adjudicators selected the best films and the festival was held with the theme "unity within diversity".