'Punsanda Paaya' 2015, the variety entertainment with a difference
View(s):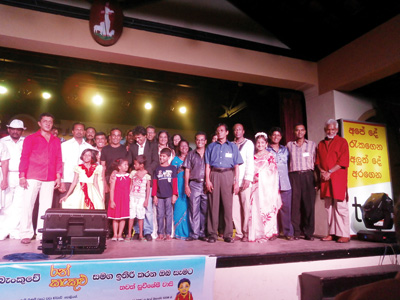 The   best  of   artistic  talent   will be enacted   on stage  when   the 'Moratuwa   Arts  Forum'  presents their   glittering   spectacle 'Pun  Sanda  Paaya' Concert on 19th July 2015 commencing   at 6.00 pm at the Buddhist Hall, Moratuwa.
The 'Pun Sanda   Paaya' show, bringing   out the cream of homegrown   talent of Moratuwa  is a pet event executed   by the Forum periodically and is now  being  held  in  Moratuwa   as the 7th  edition  since 'MAF' was founded in  1994.
As in previous  years  an assortment   of popular  performers  comprising  Singers, Musicians, Dramatists,  Comedians and Dancing  Belles   will be featured   in this three hour entertainment  package which  is  expected  to be a sell-out  affair.
Moratuwa's own Tennyson Cooray would also come on stage with a comedy skit.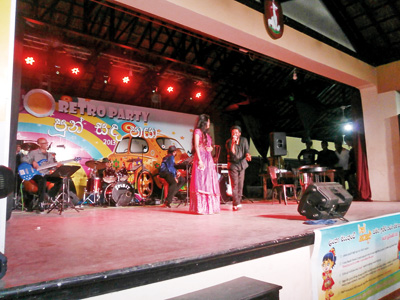 'MAF' members Clinton Fernando  is Co-Chairing this  project   alongside  Nalaka   de Soysa, who  would   direct the   music  with his Orchestra. The rest of the project committee consist of the following who are enthusiastically making elaborate arrangements to make this, a show with a difference and not just another variety show. They are; Tilak Perera, Brian Coorey, Jagath Devapura, Laksiri Fernando, Priya Peiris, Gunadasa Fernando, Pemsiri Fernando, Erington Perera, Suranga Fernando and Prasanga de Silva.
The Project Committee is ably assisted and directed by the Executive Committee headed by Hemaka Fernando, The President- MAF, Pimal Fernando, Secretary and Lankika Perera the Treasurer of the Forum. 'All Moratuwa  folks are advised   to buy  tickets   well   ahead   of the event  from  the  locations advertised locally. 'MAF' assures   all entertainment   lovers   a great  package  of happy family  entertainment  at 'Pun  Sanda  Paaya' 2015'. More details about the concert will be released soon' said the Chairperson of the organising Committee.
Ticket on sale at Multi Pharmacy Rawatawatte, Hush Lush Book Shop Rawatawatte, Milk House Idama, Crown Cycle Centre Koralawella, Multipha Pharmacy Soysa Pura. Call Erington Perera on 077 8587287 / 011 2648222, Jagath Devapura on 071 4722830, Pimal Fernando on 077 3700691or Nimal Perera on 071 5901943 / 011 2642283 for more details.