'Pravegaya' begins
View(s):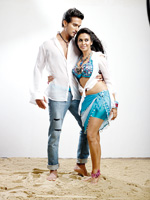 'Pravegaya' Donald Jayantha's maiden film based on a young man from a middle class family who spends time wandering in the streets with his friends will be released from June 12.
Starring Hemal Ranasinghe, Udari Warnakula, Jayalath Manoratne, Ranjan Ramanayake, Pubudu Chathuranga, Sanath Gunatillake, Jayalath Jaskson Anthony, Maureen Charuni, Mahendra Perera, Eranga Jeewantha, Janith Wickremage and Kabinga Perera in the main cast the film is produced by Shadesh Kumar and Srimathi Shadesh Kumar.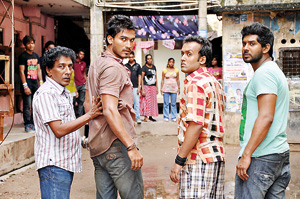 Behind the screen Indika Udara Lanka handles make up, Manjula Ayagama the art direction, director of photography is P. Selva and the editor is Ajith Ramanayake. The protagonist in the story is Hemal who is a diehard fan of motorbikes and his father using all his savings helps him to buy a bike. This in turn helps him to find a job.
One of Hemal's neighbours, Band is a well-known drug trafficker and he is an underworld godfather too. Hemal's girl friend is Udari. The smooth flow of Hemal's life is shattered with the loss of his motorbike which is very much hurtful to him.
Hemal searches everywhere for the lost bike with his friends Mahen, Jeewa, Janith and Kavi. But they are unable to find the bike. He loses his job too and this leads to his life being complicated.
In his search, Hemal finds that his bike was stolen by a member of a gang of drug traffickers and he makes a complaint to the police. When Hemal refuses to withdraw the complaint a fight breaks out between him and the drug traffickers which leads his life to a worse situation.