Geometrics of fashion
By Vinusha Paulraj
Young photographer and jewellery designer Luka Alagiyawanna tells the Mirror Magazine about her unique spin on jewellery
View(s):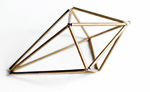 Geometrics have slowly found favour in the major fashion houses of today. A bold departure from the prints and silhouettes of big names in the business, Luka Alagiyawanna's jewellery strips shapes down to their basic beauty. Her minimalistic style she says is designed to give "ordinary things more attention, and therefore, value."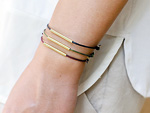 Originally a freelance photographer, Luka divides her time in between Sri Lanka and Berlin. Including issues concerning "Identity and life in society" most of her projects are fuelled by her interest in the topic, she shares. While it is her work behind the lens that has been exhibited previously in the Goethe Institute, the jewellery making is a new area of interest.
Born just under a year ago, the brand 'Ninalu', "comes from my first two names" she shares. It all started when the photographer set out to make a necklace for herself. Friends who saw the work were happy to pay for a custom made chain or bracelet. "I started making them as requests came in." With the increasing number of requests the brand came together quite fast. Setting-up a website to present her work to online buyers, she says "I kind of fell into it, and I love it." Clean lines of metal come together, forming anything from small pendants to larger planters for aerial plants under Luka's imaginative touch.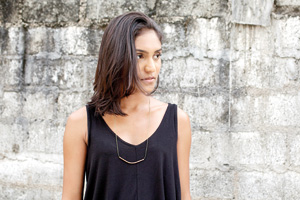 The skeletal pyramids and simple metallic accents on thread are created with "metal tubes that I cut with a saw" she tells us. The pieces are then filed, and connected to cotton or other metals. Although this is her main medium as of late there has been an expanding of her list of materials. Having always enjoyed the act of creating with her hands, the newest objects setting off Luka's creative spark include seeds, wood and seashells. "I always loved collecting things" she shares, mountains, beaches and foliage in a friend's garden have all been supplying her with interesting elements she hopes to incorporate in her newer pieces. Her love for collecting she feels is "now getting useful."
Initially intended for herself, up to date there aren't any favourite pieces for their maker. "Each piece is hand-crafted, and have slight differences." This means there is a lot of gravitation between which of her unconventional trinket speaks to her at one point in time, depending on her choice of outfit or mood.
If you're as curious as we were about Luka's unique spin on jewellery, take a look at Ninalu's Facebook page, www.facebook.com/HandmadeNinaluBerlin or her account on Etsy.com.