Beethoven and Mozart piano concerts by CMSC
View(s):

The Chamber Music Society of Colombo (CMSC), in association with the Goethe-Institut, will present a rare treat for music lovers in Colombo on Sunday, 7 June at 7.00 pm. The featured artiste will be Ramya de Livera Perera.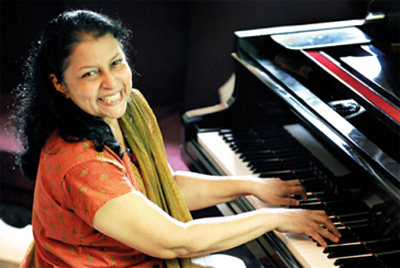 A graduate of the Royal Academy of Music and a recipient of fjjthe Hon R.A.M awarded by the Royal Academy of Music in 2002, Ramya has been soloist with orchestras at numerous concerts. She is also a much-loved teacher, who has nurtured many talented students to reach for greater heights in piano. Many of her students have gone on to win prestigious awards at the Royal Schools and Trinity College London music examinations.
As a violinist, she has performed as concertmaster with local orchestras, and is well known to Colombo music lovers for more than four decades. The concert will be supported by the Premier Sponsor of the Society, Fairway Holdings.
The programme will include Mozart's Piano Concerto no. 2 in G, K. 107 based on J.C. Bach's piano sonata no 3 op. 5 in its rare piano quartet version, and the well-known Beethoven's Piano Concerto no. 1 in C major, Op. 15, but in its piano quintet version. These rarely-heard versions yield new insights into the music, with subtleties that are sometimes swamped with instrumentation in their usual guise.
The other musicians will include the Artistic Director of the Society, Lakshman Joseph de Saram on violin, Cynthia Fernando, violin, Othman H. Majid and Haasinee Andrée also on violin, Avanti Perera on viola, Saranga A. Cooray on cello and Nilanthi Weerakoon on double bass.