'Anchor Pastry Challenge'
View(s):

Fonterra Brands Sri Lanka together with the Chefs' Guild of Lanka are uncovering the finest local culinary talent as pastry chefs from across the country put their skills to the test at the prestigious 'Anchor Pastry Challenge 2015'.

The 'Anchor Pastry Challenge 2015' sees chefs compete across two categories – dessert and cake making – where they are judged on taste, texture, portion size, work place cleanliness, working technique, practicality and suitability.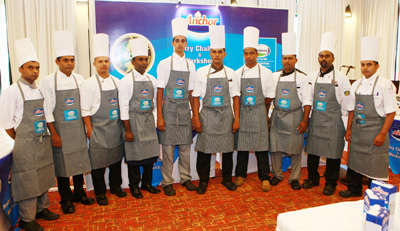 "We developed this event with the Chefs' Guild of Lanka to recognize talented pastry chefs and to celebrate the industry," said Kumar de Silva, Head of Food Services at Fonterra Brands Sri Lanka.
"Fonterra and the Chefs' Guild have had a longstanding relationship and have been working together closely over the past few years to help grow and up-skill the local industry," he added. A highlight of this year's Pastry Challenge is that the overall winner will qualify to represent Sri Lanka at the 'Asia Pastry Cup' in Singapore later this year. In addition to this all-expense paid trip sponsored by the Chefs' Guild, the winning chef will also receive Rs.100,000 in prize money from Fonterra Brands Lanka.
Chairman of the Chefs' Guild, Chef Gerard Mendis, says, "Competitions like the 'Anchor Pastry Challenge 2015' provide local chefs with a fantastic opportunity to showcase their capabilities and develop their skills overseas before returning to give back to the industry back home." He added, "Our relationship with Fonterra has been instrumental for this initiative. Having worked together as partners for a long time, we have nurtured strong trust in each other over the years.
It is a partnership which works well and one we are happy to continue in the future." Fonterra specialises in a range of dairy products for chefs such as Anchor Extra Whip Cream, Anchor Extra Yield Cooking Cream, Anchor Cream Cheese, Anchor Butter, Anchor Mozzarella Cheese, Anchor Newdale Set Yoghurt, Anchor Newdale Stirred Yoghurt, and Anchor Slice on Slice Cheese.
These products will be made available for the contestants to use when preparing their final submission during the competition.
The competition which is currently being held at a regional level, will be completed in Beruwala, Kandy, Negombo, Galle, Habarana and Colombo, before the regional finalists will compete in the Grand Final at the "Culinary Art Competition" on 24 July at the BMICH.
In addition to the contest, the Chefs' Guild will also conduct training sessions on 'Presenting Food at Culinary Competitions' to interested applicants at each of the regional events.