Retreat into the wilds with comfort at hand
View(s):

"Do you want to come with me to look for a loris?"

I've been welcomed in many ways to hotels in Sri Lanka but this was the most memorable.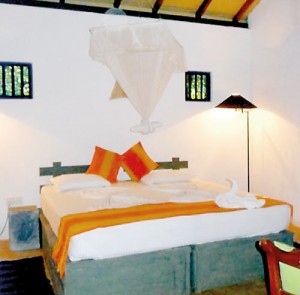 "A loris?" I said with pretended knowledge, "is that the animal like a monkey with big eyes?"
"Yes," the man dressed in a waiter's tunic told me. He introduced himself as Thusitha, the naturalist and host at Back of Beyond – no better name for this property built in the wilderness at the base of the Pidurangala rock, just a few minutes by vehicle from Sigiriya resthouse.
I declined his invitation as it was getting dark, was beginning to rain, and we had had a long drive from Colombo. Added to that, this eco retreat really was at the back of beyond and we had been obliged to telephone Thusitha several times to check if we were on the right track. We had downloaded a sketch map which showed the road passing the Sigiriya Rock Fortress but one lane in the jungle looks like another.
The turn off to the property is marked by a granite pillar, but no name board. Actually it seemed like a motel in convenience as we were able to drive straight up to the three-bedroom complex where we were to stay. This is called, I suspect as a joke reflecting guests' passion for boutique properties, The Bungalow.
The central lounge and dining area is open-sided and furnished with concrete benches. Even the dining table was a concrete slab. There is an attached pantry with meals delivered from a kitchen at the other side of the wooded glade. We were housed in a unit built of bricks, plastered and painted brown to resemble mud walls, that contained two adjoining bedrooms, one with a mini-attic.
The beds were comfortable although mine consisted of a deep pile mattress on a concrete base with, alarmingly, a concrete bolster. There was neither desk nor chairs and the wardrobe was without doors. The bathroom was Maldivian style, that is with half a roof and the rest open to the sky, with trees growing in it.
A notice assured us that the cottages had been built "without cutting a single tree." It also stated: "We request our guests not to venture beyond the built area without a staff member." This implied the presence of wild elephants and other marauding animals. I was glad I had declined to venture out looking for a loris.
That night we had dinner by candlelight. That was not the plan but there was a storm and the electricity failed. Actually, it made the eco-experience more authentic as we shared the adventure of being alone in the dark in the wilderness.
In the morning I saw that there are six cottages in this four-acre property. The others are grouped aroundanother open-sided lounge area that also has an attic for relaxing. An open-sided tree house is being built for guests determined to get back to nature to sleep on mats on a wooden deck.
My nephew, who was visiting from England, was fascinated by this unusual hotel set beside the Pidurangala reservation which has 90 varieties of trees and 100 species of birds. He was also intrigued by the constant hum, as though electricity was passing through the ether or he had contacted tinnitus. The curious sound greeted us at dawn and continued as a chorus while we ate a hearty breakfast of delicious thosai and curries.Thusitha happily explained that the noise was caused by male cicadas (a large bug with transparent wings) which make a loud, shrill droning noise. He found one to show us.
As an introduction to the five properties that make up the brand "Back of Beyond" portfolio, our stay at Pidurangala was memorable. We had no sense of "roughing it" since the rooms were cosy and the food top-notch Sri Lankan cuisine. We could have had conventional western fare if we had ordered it in advance.
For visiting the Sigiriya Rock Fortress before the sun gets too hot (it stopped raining the next morning) the property is ideally located and provides a genuine jungle experience, which the luxurious hotels in the area catering for guests transported by air conditioned coaches, don't. My nephew felt that Back of Beyond had given him a unique taste of Sri Lanka to brag about when he returned to England.
Moreover, a stay in this unusual eco retreat is pitched at an affordable price. You may even get to see the elusive loris as a bonus.
Back of Beyond, Pidurangala, 'Kurulu Uyana", Vihara Mawatha, Pidurangala, Sigiriya.https://backofbeyond.lk. Rates from Rs. 6,000, double.