Inspiring different brush strokes in her students
View(s):

The Artist in Every Child – The Legacy of Cora Abraham has just been published. Written by art critic Neville Weeraratne who has books on the Lionel Wendt Theatre and the artist Richard Gabriel to his credit, this book focuses on the philosophy and legacy of the founder Principal of the Cora Abraham Art School.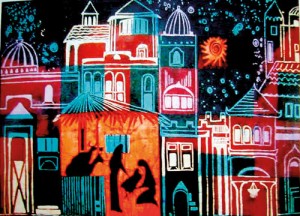 The book is lavishly illustrated with the work of students of the Cora Abraham Art Classes.
Mrs. Abraham was a secondary school teacher who taught many subjects but the one that absorbed her was art. She subscribed to the principle that the genius of children should be released from the confines of conservatism and be allowed to blossom freely, without prejudice.
This called for an attitude of mind that encouraged free expression; the freedom to experiment with colour and line, and with clay. To come to terms with the visual and the
tactile world which is the business of artists to explore, understand, communicate and celebrate.
In 1949, Mrs. Abraham started a small school in Bambalapitiya with two like-minded artists and teachers, Sita and Richard Gabriel- the Melbourne Art Classes that nurtured the latent talents of vast numbers of children.
As they grew older, Mrs. Abraham provided them with other opportunities to practise their art; she started the Young Artists Group. Many of those art students are now established artists, architects and professionals in many fields.
Mrs. Abraham died at the age of 84 years in December 1979 and the school she began continues to work under a name that applauds her contribution to the art of Sri Lanka. The Cora Abraham Art Classes now functions at 26 Boteju Road, Colombo 5, pursuing the methods of teaching to which Mrs. Abraham had dedicated her entire life.
The book is now available for purchase at the school at the pre-launch price of Rs. 2500.