Building bridges through vignettes
View(s):

Imagine the pack of monkeys that merge in the legend. By twisting together they all stood as an acrobatic bridge from India to Lanka. Well known travel writer Neil Wijeratne has twisted his vignettes on India once again and his new book is titled Enawada Yanna Mohali?
The said acrobatic bridge from the past still enthralls us just as much as the Sethusamudram Bridge, suggested in the recent past with an enormous investment. But this writer continues his bridge-building work twisting vignette after vignette with an aesthetic sense. At the end of each vignette is a playful prank that takes the reader up to a joyful peak. And it sparks off a realization within him "Hey this is India" but with a deep humility.

If any mere suggested irritations had pained the reader on any earlier occasion even on the grape vine these vignettes are there to soothe him/her. The pen is mightier than the sword. Though it is now a cliche, the saying is apt here among the vignettes. The book is divided into two parts. Part one is to view and hear about India by mingling among the Indians and part two to read India with a suggested reading list.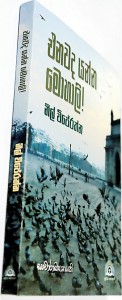 India promoted English as a countrywide second language as soon as it gained independence from the British. The effect is that English is well rooted and blossoming in India. By demoting the same as a second language in Sri Lanka as a political strategy, the Sinhala readership who can appreciate English is less. Within the suggested reading list of NW, the book titled "Against All Odds" by Kishore Shantha bai Kale would definitely sadden the Sinhala readers according to NW's further analogy on the same. K.S. Kale was born to the traditional Maharashtra Kolhathi dancing community. His mother is working as a dancer. But society's aggression towards this community and the child is unbearable. And as a child K.S.K. decides to qualify with the M.B.B.S. degree. Even after achieving his ambition of becoming a doctor he never deserts his community and continues to serve as a doctor among his people who are devoid of even the basic home electricity. And for readers who read both Sinhala and English, the suggested reading list is a fine guide to understanding India by Indian writers who handle the English language lucidly and the other writers in this list whose books were translated into English from regional languages.
NW begins his bridge building work in this venture not from India but from Down Under at a time when some Sri Lankans are exposed to an Australian officer's advice on our TV screens. He warns them about taking an illegal risky boat ride to his country from Sri Lanka. Though they (the migrant Indians) were living in Australia they often talked about India and its heritage. Albeit there was a visible gap within their life styles and attitudes. (page 34) "You see here even a baby's birth is an event to advertise. Look at this newspaper. This is a wonderful advertisement." The citizen from Bombay unfolded the newspaper and read it to others. The content of it was, "The newcomer to our family was a girl. We hereby proudly proclaim to our family friends the new member of our family Jane was born in (the place) at 5.27 p.m. Immediately after the birth her weight was k.g. 3.3.Yours sincerely this is little Jane's parents." (Page 38)
The day the Indian cricket team was able to defeat hosts Australia was an event for the group of retired immigrant friends to rejoice about. "Have you seen how efficiently our boys worked upon? When they accomplished the last winning boundary shot I was crying."
"I felt without being here in this country how fortunate if we were able to watch this match in India across a television screen."
"What a grand noise would have been while the whole neighbourhood comes out to watch it under one roof."
"What an excitement it would have been, everyone would have offered to each other a tray of Laddu." (page 39)
On an another occasion a cricket match scheduled to be played between India and Pakistan at Mohali, a suburb between India and Pakistan effectively demobilizes the strict visa requirements between the two countries. Buying a ticket is difficult but at the black market a one hundred rupee ticket is quoted for thousand rupees. One woman says, "after the match I want to visit the place called Jalandari. It is the place where my mother was born." (Page 54) Vice versa for those Pakistanis who migrated in the same manner it was a voyage indulged in search of their beloved lost relatives.
"Even my position is the same" one cricket fan reveals to NW. "My paternal relatives live on the other side of the border. When India was divided into two parts even our family members were compelled to divide. Though we were living in two countries those days we had a strong intimacy as well as good connections. At present those who are there are the second and third generations of our relatives. They are unaware about us. What a difficult task it is for them to come here and for us to go there. It is during a grand cricket match like this that can bring changes. Often I feel if any one related to us could come and visit us how fortunate it would be. I have a strong belief that it could occur. If it happens I will treat them in a grand manner."
Perhaps you may argue about the dark side of cricket – the sport defined as the gentlemen's game by the British. On a big match day the clerk, the farmer, the doctor, the taxi driver, the schoolboy, are glued to the TV screen. The national gross productivity falls to zero even in Sri Lanka due to over enthusiasm. But reflect on this magical situation: The British divided the large country into two parts but the grand game introduced by the British is able to soothe the friction and promote basic human values.
We in Sri Lanka call it papadam; for Indians the same product is Papad. When mothers dip these in hot oil to make them crispy, the children around them are impatient to munch them while being fried. It's the crispiness, the fine smell, the puffy good look and taste of good papadams that enthralls even people in the west. A business legend is woven around papad manufactured in India. As a brand Lijath Papad is popular all over the world. NW says the price of a Lijath Papad in Australia is two dollars. The giant business had been initiated by seven Indian housewives as a means to improve their home economies. And its annual sales sky rocketed to more than a billion.
Many walking areas that were neglected during the war years have now been done up in Colombo. It is now a common sight to see during the mornings men and women walking to promote their health. But they have not yet organised in Colombo to laugh loudly as an act of grouping together. NW pinpoints such a group in India. The act of laughing as a group without any apparent reason begins as a spark. Someone's initial laughter is a match stick with a flame thrown into the gathered group. The fire begins to spread among each and all participants. NW too joins such a group at India Gate in Bombay and enjoys the therapy. But on the following day when he strolls along a street he comes across a woman who laughed with him and NW tries to exchange a friendly smile with her. The woman totally ignores him (Page 64).
However, amidst all these things, NW's bridge-building work between India and Sri Lanka continues like no other Sri Lankan writer has been able to accomplish. Viva NW.
Book facts
Enawada Yanna Mohali (Would You like to go to Mohali) by Neil Wijeratne. Published by Athula Jayakody: Suriya Publishers. Reviewed by Jagath Kumarasinghe