Sri Lanka's vision of achieving very high human development by 2025-2035
View(s):

Having achieved high human development Sri Lanka has the capability to achieve very high human development by 2025-2035. For this the economy should grow at an annual average of 6.5 percent, ensure more equitable distribution of income and pursue policies to increase public investment in key areas of education and health.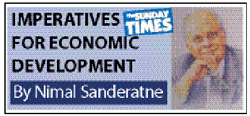 Dr. Godfrey Gunatilleka presented these issues in his paper "A Vision for Sri Lanka 2025 & 2035-Pre-Requisites of Very High Human Development" at a seminar organised by the Gamani Corea Foundation and the Marga Institute on May 6 at the BMICH. The presentation provoked a rich exchange of ideas on the country's economic and social development.
Human development and economic growth
Dr. Gunatilleka's approach and perspectives that are of vital significance to the country's future were based on the premise that human development is the end of economic growth. However important economic growth is, it is a means towards human development. Nevertheless, the goals of human development cannot be achieved without economic growth.
Dr. Gunatilleka assumed that Sri Lanka's economy would grow at an annual average of 6.5 per cent in the next two decades and suggested the levels of human development that could be achieved at per capita levels of a medium high income country. He pointed out several features of very high human development indicators of high income countries: high educational and knowledge levels, longevity of life and democratic freedoms.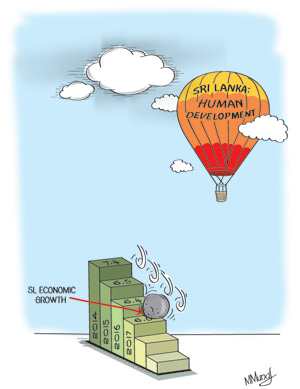 Education
A feature of countries with very high human development is their average number of years of education of 16 compared to Sri Lanka's current 13 years. Their public investment is much higher at over 35 per cent of GDP and much of it is on education, research and health. Filling this gap in educational years and increasing public investment are a serious challenge in the next decade.
Macroeconomic adjustments vital
Dr. Gunatilleka's suggested that "If we assume that Sri Lanka would be able to make the corrective policy adjustments that are needed to deal with the emerging macroeconomic problems, the country should be capable of sustaining high rates of growth in the next two decades which would be in the region of 7%."
Although the paper discusses briefly the country's potential for high growth, Gunatilleka's main purpose was the state of "very high human development" that Sri Lanka is capable of achieving in 2025 and 2035. He raised questions about what fundamentals are intrinsic to the state of very high human development. Where does Sri Lanka stand in relation to these fundamentals and what are the choices and options that are available for the growth path that Sri Lanka takes in the next two decades?
Six critical issues
He selected six sets of issues that are fundamentally important for defining the capability for achieving very high human development indicators. These were:
the role of government; 

distribution of income and wealth and society-wide distribution of capability; 

development of human capital – the educational attainment of the population and the capacity to develop a knowledge-based society; 

the structure of the workforce — participation rates male and female educational levels, international mobility and global competitiveness; and Population dynamics.

patterns of urbanisation migration and 

the characteristics of very high human development in ageing societies.
Growth, consumption, savings and a desirable state of equilibrium producing stability and contentment were among the wide range of issues that Dr. Gunatilleka said would require to be addressed to achieve very high human development.
Educational reforms
Increasing investment in education is vital. However, it is not only the proportion of GDP publicly expended that matters, educational reforms that improve the quality and relevance of education are imperative. Education must be reoriented to enhance education in fields that develop skilled personnel.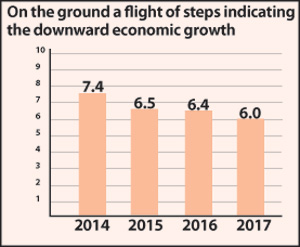 Public expenditure has to be increased to develop educational infrastructure in science, mathematics, English, computer science and other useful subjects to provide the skilled staff for the expansion of high tech industries and ICT services that enhance economic growth. Only about a tenth of the country's schools have science facilities at present.
The significance of public expenditure on education and health that Dr. Gunatilleka pointed out has inter-generational benefits. Better educated parents will provide a still better education for their children due to their affordability, appreciation of the usefulness of education, the educated home environment and private spending on better education facilities. Similarly, healthy parents would raise healthier children owing to genetic reasons, knowledge on health and expenditure on nutrition and medical care. The initial investment in education and health sustains education and health by private expenditure that is an objective of human development.
Growth doubtful
Although Dr. Gunatilleka's study assumed only an average economic growth of 6.5 per cent that was below recent growth, both Dr. Saman Kelegama and Dr. Indrajit Coomaraswamy, who were discussants at the seminar, were sceptical of achieving such high growth. They pointed out the inability to continue the past growth strategy as it was based on foreign borrowing. Inadequate reforms to increase productivity, low domestic savings and declining government revenue as percent of GDP were constraints to growth. Whether Sri Lanka will be able to make corrective adjustments is rather doubtful, although not altogether unattainable.
Value system
Dr. Nishan de Mel, the other discussant at the seminar, pointed out that the values of a society are an important determinant of its quality of life and that the contemporary political culture of a rent seeking or corrupt society is inimical to the achievement of economic development and high economic human development. He stressed that in such a culture and political milieu, you cannot get good policies, nor could good policies be implemented.
Economic strategies
Economic strategies that would ensure the levels of economic growth that are needed to achieve the goals of human development are a critical issue. It is not only the rate of economic growth that matters, but the means by which the economy grows to ensure economic growth that should not undermine social and human development, values, poverty reduction, social equity, equitable income distribution, law and order and democratic freedoms.
The challenging task of achieving a 6.5 per cent annual growth over the next ten years that is crucial for higher human development will be discussed next Sunday.