The green-eyed con artist
What makes a story News is illustrated in the following true first-person experience, writes Stephen Prins
View(s):
La Bamba is where they all converge, the visitors. They come from within and without. From Point Pedro, Dondra Head, Uswetikeiyawa, Malé, Mahé, Chennai, Rawalpindi, Karachi; also Manila, Shanghai, Beijing, Ulan Bator; Dhaka, Thimpu, Kathmandu; Amman, Damman; Abuja, Bujumbura, and Ouagadougou
They all get off at the popular shopping-theatre complex that dominates Bambalapitiya and walk around the four floors in search of tea, jewellery, silverware, watches, sarees, chutneys, toys. They round off their visit at the noisy basement international food fiesta or the ground-floor fried chicken outlet facing Station Road.
Ascertaining where these guests come from is simple. You hear intriguing foreign accents and satisfy curiosity by going up to the outsiders and asking where they hail from. They are usually happy to answer an affable local showing a harmless interest in world culture.
La Bamba and Kollupitiya comprise our "upan gama", our birthplace, and that is where we like to stroll, shop, dine, browse – day or night, day and night. The Bambalapitiya dynamic, with its unpretentious middle-classiness, outdoes in buzz, human appeal and friendliness all other Colombo shopping and entertainment hubs.
The moment you enter the precincts of La Bamba proper, the busy populous stretch south of Buller's Road (Bauddhaloka Mawatha) and north of Jaanaki Lane, you are relaxed, sociable, smiling. That's how Bambalapitiya is. Long live La Bamba.
The atmosphere within the shopping-theatre complex is so genial that you drop your guard the moment you arrive. It is this openness and readiness to engage with others that led to a curious experience. It was interesting, educational, and costly.
One recent afternoon, strolling along a busy corridor on the first floor, we were addressed by someone walking ahead of us. He had turned around and was saying something. We thought he was talking to us.
"Can we help?" we said. The man frowned. "Sorry, did you ask me something?" We said, "Did You ask Us something?" His expression softened. He said he was talking to his companion, the guide. "Anyway, nice to meet you," he continued. "Where are you from?"
"From around here," we said.
The man was light in complexion and clearly an overseas visitor. He was dressed in knee-length pink cotton shorts, held up by a slim, brown-black fake snakeskin belt, and a white cotton T-shirt with sleeves that touched the elbows. He was petite, short for a white-skinned overseas male. He looked in his early twenties. A digital camera hung from a strap round his neck. With him was a tour guide, a local in his forties.
The visitor came up closer. In the artificial corridor light, his eyes were a strange colour.
He held out his hand. "Nice to meet you," he said. "My name is Steve. I'm a tourist. I live in Italy."
"That's coincidental. We share the same name."
"Well," he said, staring into our eyes, his eyes looking even more intriguing in their changing liquid hue. "We must sit down and have a chat. How about a cappuccino somewhere?"
His accent was also strange, mixed, neither here nor there, but with a distinct "here-ness", a local flatness. We suspected a Sri Lankan under the Western cover.
The young man from Italy and his guide came down with us to the ground-floor fast-food restaurant. We had invited the two to join us for a snack. Local gives visitor welcome treat. Upstairs, we had been looking closely at each other, and he must have sensed our doubt that he was altogether Italian. He wasn't.
"I am actually part Italian," he said, as he and his friend settled into a semi-circle of a bench facing the rest of the restaurant, while we perched on a cylindrical leather-covered stool. "My mother is Italian, my father Sri Lankan. I was born in Italy. We live in Milan."
The guest from Italy watched as I fished out a note from a green-and-white HSBC deposit envelope to pay for the food and drink. In the bright light of the restaurant, his eyes were green. Acid, mixed. Lime, with a bit of brown sugar stirred in.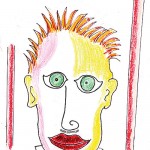 "Do you visit often?"
"About once a year. I started coming to Sri Lanka when I was 18. I like it here. The people are nice. But they can also be a bit unreliable."
"Unreliable how?"
"Well, I have got caught many times to hustlers, rip-off artists. I get a bad deal by trusting people too much."
"Don't you have hustlers in Milan? In Italy?"
"Not as much as you get them here." He laughed. That was a sad comment to make about the locals, we said. After two decades overseas, we had come back thinking the best of them. It was joy to know we were now permanently "among our own."
The tourist listened. He was good-looking in a fresh, scruffy way. His head was topped with uncombed, un-gelled brown hair streaked blonde. His tanned arms were furred with gold hair. We remembered his bare legs flaring gold filaments in the light on the stairs, as we turned to talk to him, three steps above us.
"As a teen er wanted to learn Italian," we said. We studied piano, so I know about fifty Italian words. Moderato. Andante. Dolcemente. Con tenerezza. We wanted to speak the language of Sophia Loren and one day go to Sicily."
"My father came to Italy hoping to meet and marry someone like Sophia Loren. He met my mother, who is not like Sophia Loren," the Eurasian said. She sings beautiful Italian songs. You should get back to your Italian. It's easier than French, a bit more difficult than Spanish. I speak all those languages, plus a bit of German and Russian."
All through the conversation our guest's green gaze kept flicking at the customers as they came, sat, ate, drank and went. This kind of easy distraction is irritating in anyone you spend time with. Especially when you play host, and you pick up the bill.
The half-Italian suggested we moved in closer, joined him on the crescent bench. We said we were happy on the leather seat.
He then leaned in close and popped a very personal question, his nose almost touching ours. It was not entirely unexpected. Over the past 15 minutes, we had had a series of little shocks, faintly unpleasant, from this purring electric toy boy, and we were braced for more. We gave him an answer that satisfied him, and he went back to his people-watching.
Just then, it was our turn to be distracted. Through a corner of our eye, we had spotted a familiar figure. He was a former assistant manager of the restaurant. We had become friends. He was a "gymmer", as he called himself, working out at a suburban gym, hoping to join the Navy or the Air Force. He was dressed in denims and a closet-fitting black shirt. He was talking to members of the staff, old colleagues. We raised a hand but failed to catch his attention. We excused ourselves, telling the half-Italian who should have introduced himself as Stefano that we would be back in a minute.
It was crowded in the restaurant. Customers were standing, waiting for a free table. In the chat and the crush, we lost sight of our guests at the far end.
Our muscle-bound friend in black was telling us about his career move as a model, when the guests appeared at our elbow. Mr. Stefano said he had shopping to do before leaving that night for Hambantota. Give us a minute, we said. We'll wait for you outside, he said. We have a car, he added, impressively, and with that he and the guide disappeared through the glass exit door.
A minute later we remembered our "siri-siri" bag, which we had left on the round table. The bag was there, with wallet, HSBC envelope, Diet-Coke bottle, and our 80-page, A6 notebook, in which we jot down the day's agenda, expenses, incidents.
We stepped on to the balcony but the two men were nowhere to be seen. The only vehicles in Station Road were the usual three-wheelers. It was now getting dark, and there was a light drizzle.
We went back inside and sat down. Perhaps the guests had gone on a quick buying errand and would be back shortly. If Mr. Stefano wished to come back and continue the conversation, we shouldn't disappoint him.
We took out our wallet and the striped envelope. There was only a wad of grocery receipts in the envelope. No currency notes. We had withdrawn Rs. 30,000 from the ATM that afternoon and placed six crisp gold-hued five-thousand rupee notes inside. After having used a thousand rupee note to buy snacks and beverages for our guests, we were left with eight light-green thousand rupee notes hidden inside a zipped pocket. The pocket was empty.
That was slick, we thought. A presto operation, a prestissimo disappearance.
We felt tired and asked a waiter to bring us a mint-lime mojito, with lots of ice.
We had lost Rs. 38,000 and felt rather foolish. What had we done wrong that afternoon? We had allowed ourselves to be duped, and we had only ourself to blame, as they say. Did we deserve to have been duped? Perhaps. Had we over-extended ourself to strangers? Clearly we had. Was there a lesson to be learnt here?
Heading home, we considered the following:
We could or should have turned down the invitation to have a cup of cappuccino and a chat. We should not have invited strangers for a treat.
We should not have got up from the table without taking our valuables with us, even if it was for only a minute.
We had over-extended ourself, by 100 or 1,000 kilometres. On joining our first newspaper years ago, we were told what constituted News and What Was Not News.
DOG BITES POLITICIAN is Not News.
POLITICIAN BITES DOG is News.
The idea is to bring a story that subverts the usual, the expected.
In a country where tourists are often badgered and duped by locals, we had a story that reversed the formula, with a local duped by a tourist. We had a story for the newspaper. The cost of getting the story was high.
And then we comforted ourself with what Mandy Burroughs, a very sensible newspaper colleague in Hong Kong, had said years back when we told her about an even greater financial loss, in plump Hong Kong dollars.
"It's only money. Forget it. It's not worth the worry. Really. Believe me."
Mandy Burroughs was a darling person, a petite British blonde, quite beautiful. Her eyes were especially eye-catching – deep mauve, with nicks of gold.