Sri Lankan President thanks Pakistan for support to end terrorism
View(s):

President Maithripala Sirisena said that the government as well as the entire Sri Lankan nation is grateful to Pakistan for the enormous assistance provided to Sri Lanka to defeat terrorists. "Sri Lanka today stands as a peaceful unitary State because of your support," he told the new High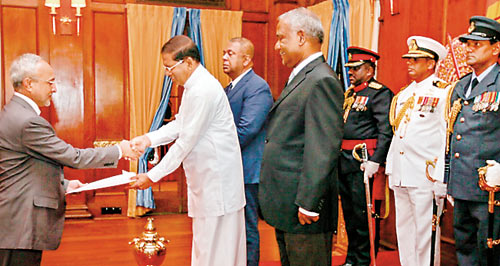 Commissioner of Pakistan to Sri Lanka, Maj Gen (Rtd.) Syed Shakeel Hussain, when he presented his credentials on May 12 at the Presidential Secretariat.
The President also expressed his gratitude to Pakistan for the support extended at the international forums in general and at the UNHRC in particular. "Your Ambassador in Geneva fought for us as if he was fighting for his own country," President Maithripala said.
The Ambassador requested Sri Lanka to provide archaeological expertise to Pakistan for the excavation and development of Buddhist sites such as Taxila to which President Srisena readily acceded.
Ambassador Hussain said his government has a very high regard for President Sirisena and his steadfast policies and said he would work to further strengthen relations between the two countries besides expanding trade and economic ties.