Brutally executed, banished or 'disappeared'
By Tim Macfarlan
The grim fate of top North Korean officials purged by Kim Jong-un four years after they were pallbearers at his father's funeral
View(s):
Five of the seven men who stood alongside Kim Jong-Un at his father's funeral less than four years ago have either disappeared, been brutally executed or banished.
Jang Song-thaek, Kim Ki Nam, Choe Tae-bok, Ri Yong-Ho, Kim Yong-chun, Kim Jong-gak and U Dong-chuk, who made up North Korea's political and military elite – were pallbearers at the state funeral of Kim Jong-il in December 2011.
The dictator's uncle, Jang, was allegedly executed by firing squad, Ri is presumed dead, one has disappeared and two have been banished.
Only Kim Ki Nam, the regime's propaganda chief, and Choe Tae-bok, the chairman of its People's Assembly, remains at Kim's side.
The increasingly random and vicious means by which North Korea's leader attempts to shore-up his position have again been ruthlessly demonstrated by the reported latest execution of a top official, this time the country's defence minister.
Hyon Yong-Choi, 66, who was named head of North Korea's military in 2012, was butchered by an anti-aircraft gun in front of hundreds of bloodthirsty officials in a military camp in the capital on April 30.
His alleged crimes? It's believed he fell asleep during formal military events and spoke back to his all-powerful leader.
Just as Hyon was dealt with the moment Kim felt the need to make an example of him, the key figures at his father's funeral were expendable, according to a renowned North Korea expert.
Michael Madden, founder of the North Korea Leadership Watch blog, told MailOnline: 'Those guys were an amount of window dressing for Kim Jong-Un.
'They were there at the funeral so they could be seen to be regarding him as highly as they did his father. The group were around to make sure the elites respected the transition of power.
'It was like learning to ride a bike for Kim – now he's consolidated enough power he doesn't need that training.'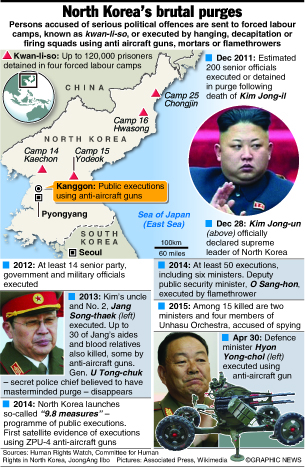 Dozens of North Korean soldiers were reportedly killed in a fierce gun battle following the removal from office of army chief Ri Yong-Ho in July 2012.
He was relieved of his duties not much more than six months after Kim Jong-il's funeral, prompting an apparent firefight between government soldiers and personal guards loyal to him.
A South Korean newspaper, Chosun Ilbo, said it had been told by government officials in Seoul that the violence erupted when vice-marshal Choe Ryong Hae, director of the People's Army General Political Bureau, tried to detain Ri.
The officials said the vice marshal had been carrying out Kim Jong-Un's orders to sack him for reasons unknown.
One report said as many as 36 soldiers – for and against Mr Ri – died in the following melee.
It has not been established whether Mr Ri was injured or killed in the gun battle. He has not been seen in public since.
One source was quoted as saying that 'we cannot rule out the possibility that Ri was badly injured or even died during the firefight when his guards possibly tried to protect him.'
Exactly why Mr Ri was removed from the high office remains unclear, though the North Korean regime insisted that he had been allowed to step down due to illness.
In South Korea, analysts said they had no doubt that Ri had been sacked and might even have had to be physically removed from office.
© Daily Mail, London