Appreciations
View(s):

Tilney Fernando 

My hero will live on in our hearts

Some fade away. But some live strong in our hearts! And he, my silent hero will always live in our hearts. As my pen moves at the present, my mind runs all the way to the beautiful past where with 'Pa' everything was so different.

When I was just a toddler he came secretly and muttered, "I'm not your Seeya, I'm your Grandpa". My little head only picked up 'Pa' and forever it got stuck as 'Pa'. My malli Chalindu and cousin nanga Divna called him Pa.

His ways were gentle, filled with love and care. He would come from where-ever he was to pick me up from classes in the afternoon. He would cook so many tasty bites if anybody came over to his place. He would bring big chocolates, hide them in his cupboard and give us small pieces when we asked. He was very careful about money, every single cent he spent, and took time to explain the value of money to us.
He proudly shared his stories with us – stories of his many hunting trips, fishing trips, Health Ministry projects and family events etc. My Loku Seeya told me that it was on one of his fishing trips that he had met my Acha.

I also remember the days when I could not sleep, I would hold his hand and he would sing 'Rock a bye baby on a tree top' till I fell asleep. He insisted on us taking small breaks from studies and classes and doing sports and music. During the latter part of his life I remember how sad he was because of his illness when he became weak and was constantly under medication.

When he was in hospital, I fed him soup and bread and he held my hand real tight. I knew he did not want me to go. I asked him 'Pa do you love me?' There were tears in his eyes following his slow nod. I know that he is in a better place now.

Pa, wherever you are, I know you will be watching over us and will love us the way you always did. We all will love you the same, and more.

-Your grand-daughter Kavisha

John David

His is a life to be celebrated

He was a teacher, artist, carpenter, metal worker, master leather craftsman, social worker, social mobiliser, but above all, John David will be remembered as a true child of God, who constantly looked for ways of fulfilling the mission entrusted to him by his Creator. All those who knew him closely would agree that he had a very good idea of what this mission was. Anyone meeting him for the first time had to spend only 10 minutes with him to get a glimpse of this divine objective.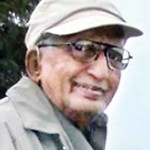 As a government servant attached to the Education Department, he would often complain that the amount of work he did as a Lecturer was not sufficient, and hence would look at providing a holistic learning experience to his trainees who were being coached to be teachers themselves, spending extra hours on weekends and holidays. An uncompromising approach to hard work and the innate pioneering spirit led him to leave the state sector and embark on a totally new field with no leaders or role models to follow. It was only his instincts and his values that guided him to create a whole new field, hand-crafted leatherware, which today is an established industry providing gainful employment to many. In the early 70s, vegetable tanned leather was used only for the inners of shoes.
The underutilised lecturer saw opportunity not only for himself, but for so many others, especially the socially handicapped, such as young men and women from broken homes, broken marriages, often ostracised by traditional societies. His first leather craft workshop was named the Handicraft Service Centre, in the then small roadside town of Pilimatalawa. True to its name, this entity was a lot of things, except a business venture. It was sans many of the components of a small and medium scale enterprise such as accounting procedures, marketing, work study, etc., but it was bursting at its seams with love, kindness, empathy and sharing.
This was the beginning of a lifetime of experimentation with leather and other materials, and sharing all of that with his followers.
Interestingly, at various stages of his venture in leather craft, John David would strike up partnerships, and watch the partners grow rapidly and then challenge their teacher and leave to start on their own. The pioneer would put hand to chin, and with a partly hidden smile would comment that this person has grown to such a level, that he or she can now, challenge me, leave, and go on and start a new venture on his or her own. This had happened more than 3 or 4 times during his days as a leather craftsman.
In his personal life, enemies were non-existent. Recognising the true significance of Christmas, John David along with his family visited many homes of people with whom relationships had gone sour during the year, much to the discomfort of his young children and wife. At each of these occasions the hosts turned out to be very gracious and hospitable and the whole exercise resulted in healing and reconciliation.
Even in his 80s, one would see him taking the arduous bus journey to the Pensions office in Colombo, to attend to a pension matter of a poor or feeble neighbour. At the same time, he would assert himself when he saw that the rights of the less fortunate were being deprived. The unscrupulous queue jumpers at the Kadugannawa bus stand in Kandy were often at the receiving end of his protests which are almost always complete with a touch of sarcasm. "Mahaththayo, polimeya awanam neda honda?" coming from the immaculately dressed, greying and distinguished looking John David, this was most disarming to the younger perpetrators.
His spirituality was engraved with a deep acknowledgement of the existence of a divine being. He would call it the "X-factor", someone or something that would make things fall in place, and how right he was. At every turning point in his life he would claim that there was divine intervention. So, he would venture fearlessly to the unknown, assured of assistance of the X-factor.
Money meant little to him. A few years ago John's daughter and son decided to ask him why he had no bank balance, and why he had not saved any money for his last days. Bang, came the reply "Why should I? I was positive I won't need it, I was sure you will look after me". The answer was plenty and the point inarguable. As claimed by himself often, John was blessed with very caring family and friends. He had friends from all walks of life, and was adored by all. His life's achievements received silent but resilient support from his beloved wife Therese, who stood by this extraordinary man through thick and thin.
During his last few years he would reflect on each phrase of the Lord's prayer. "Thy will be done on earth as it is in heaven" seemed to be the underlying statement in the life of this multi-faceted man. About four years before his demise, he was seen consoling the grieving siblings and children of a deceased elderly relative by reciting the Lord's prayer and reflecting and meditating on each phrase. He found solace in prayer, and the Lord's prayer epitomises the beliefs of this innovative, amiable man who touched every soul he came across in his own inimitable style.
A life to be celebrated.
May God bless his soul.
-T. Dayalan
Rani SILVA (nee THABREW)
A devoted teacher, advisor and mother
Rani passed away on January 6, 2015 at the age of 74 years after a brief illness, in Abuja, Nigeria, at the home of her one and only son, Imal.
She graduated with a science degree from the University of Colombo in 1964 after having studied at St Anthony's Convent, Dematagoda,Southlands College, Galle and Devi Balika Vidyalaya, Colombo. Rani was a great teacher to thousands of students who studied at Devi Balika Vidyalaya, S.T. Sylvester College and D.S. Senanayake Vidyalaya, Sri Lanka and Anglican Secondary Grammar School, Nigeria.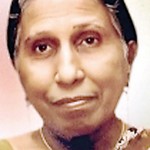 She also functioned as the Principal, Alafia Institute, Obatej (WES) School and Founding Principal, Lifeforte International Schools, Ibadan, Nigeria. She was an excellent teacher and many of her students came out with flying colours at competitive examinations. She was also a kind and compassionate mentor to most of her students, advising them on how to conduct themselves both at school and in society. She would advise them on good manners, how to groom themselves and behave in public places with dignity and decorum. As a teacher she did not favour the `good' children over the `not so good' ones. Instead she focused on the strengths of each child while being aware of their weaknesses.
Rani was born as the second child in a family of five. Her father was a Revenue Inspector at the Colombo Municipality and her mother a devoted housewife hailing from a business family in Galle. From the formative years Rani was a high spirited girl, full of life who would stand up to her parents in doing what she thought was right. Many are the times she was admonished by her father for her stubborn actions. Despite this, she was very supportive of her siblings and took good care of her parents. She also took great care to advise family and friends.
As a single mother she was determined to share her love with her son and her students.
I am glad that I was able to help Rani and Imal to go to Nigeria in 1980/81 and start a new life. She started her teaching career in Nigeria in a junior school in a remote place called Ife-Oden, where one had to walk more than a kilometre carrying one's bag and baggage to reach the school. With determination she made steady progress, winning the confidence of the educators and ended as the founding Principal of Lifeforte International School.
Her exposure to the church and the influence of the Principal/Pastor made her read the Bible which seemed to offer her solace and comfort that she had not enjoyed hitherto. She became a devout Christian. She earned the respect of all who knew her for her sincerity and simplicity. Till she converted to Christianity Rani was a Buddhist. She always helped the needy, especially the elderly, spending a lot of time with them. Despite the trials and tribulations Rani had to face she enjoyed life. She shared a deep compassion for those around her and touched the lives of many.
Dear Sis, we mourn your loss. May you attain everlasting Nibbana / Rest in Peace and may the blessing of the Noble Triple Gem guide you through sansara and may you always be peaceful and contented in your future life.
-Ranjit Thabrew
Gunapala Sooriarachchi 
A retired public servant of high calibre
Gunapala Sooriarachchi, "Soori" to his numerous friends and colleagues, died of a heart attack. Being a retired public health inspector with a proven track record in his chosen profession, he was quite aware of the gravity of a cardiac arrest. Yet he never expected of a sudden demise of this nature as he was well-looked after by his beloved wife Chitra Sooriarachchi who is one of my classmates at Sri Rathnasara MV, Baddegama. In fact, it is through her I made acquaintance with him and our friendship lasted inspiring me in various ways in my life until his sudden death. This affable personality always kept the people in the vicinity in good spirits and gave necessary leadership for the uplifment of the locality.
Gunapala Sooriarachchi was born on July 21, 1943. His far-sighted parents put him on a good footing in his education by sending him to the nearest high school, G/Christ Church Boys' College, Baddegama which always extended a helping hand to the young prodigy of the area. His parents Abraham Sooriarachchi and Wijesekara Gunawardane Maginona of Hemmeliya, deserve our gratitude for gifting such a gentleman to our native town, Baddegama.
His widow, Chitra Sooriarachchi left no stone unturned to keep him hale and hearty throughout their life together. Amila Chathurangi, his eldest daughter, who was a classmate of my eldest daughter, Amalka, currently serving on the academic staff of Sussex College, Galle always brought him much solace in his life.
He was a versatile character. He was a close associate of the film industry's great Titus Thotawatta. He had many an achievement under his belt. My friend's dramatic skill contributed immensely to the film "Maruwa Samaga Wase' by Thotawatta.
He was a devoted Buddhist in the real sense of the word. The eulogy of the monk of the village temple reminded the mourners how to lead a virtuous life. The spiralling smoke of the crematorium at Baddegama enveloped the whole area in sorrow and we lost another exemplary figure at a time the country needs gentlemen of this calibre to regain the lost vitality of our nation.
"May he attend the Supreme Bless of Nibbana'
-Piyadasa Rillagoda
SHERINE MARINA BERNADETTE FERNANDO 
Like a flower that blooms hers was a life happily lived
Sherene Marina Bernadette or just 'Nona', as she was affectionately called by her near and dear ones, passed away peacefully with the dawn of Christmas Day, last year.
Bernadette was the seventh in a family of 10. Those were the days when people generally had large families. Salaries were comparatively low, yet the Cost of Living was very much within the reach of the poorest of families, so much so that those who received a small wage could save, may be, a large slice by the end of the month. Such was the order of the day then.
Bernadette's father, a Police Officer, managed to bring up ten children with the meagre salary Police Officers drew then. But that was enough.
Bernadette, as time went by, married and had a family of her own with two children, a boy and a girl. Her daughter, now happily married, went to live in Italy where her husband worked. The son opted for business. Bernadette's husband, Patrician from Kotahena, a loveable person, adored his wife all the time making her happy and attending to her needs till her last.
She maintained a rapport with both her close and near relatives, as well as her friends.
A God fearing lady, she never missed her religious obligations. She was 62 at the time of her demise, a life happily lived and spent.
It is said that a life lived short or long, has achieved its full potential; just as many a flower is born to blush unseen, wasting its fragrance in the desert air. Every flower, therefore, a unique creation and Bernadette was such a one.
A new life of fulfillment and happiness for 'Nona' has begun where she now lives in a land of glory, somewhere beyond the sunset. May the Lord overlook all the faults or errors that she may have inadvertantly committed during her sojourn here on earth.
May she rest in the Peace of the Lord.
'Requiescat in pace.'
-J.I. Rosairo
Michael Perera
Remembering his 100th Birthday 
Mike to some, dada to most,
Loved and admired to the utmost,
Always smiling, always gay,
Kept everyone happy with his ready wit.
4th of May is his Birthday,
Would have been 100 had he lived to this day,
Left us at 70, Oh! What a sad day,
But God knew best and took him to rest.
We loved you dear Dada,
We know you knew that,
Through good times and bad,
You were ever by our side.
The years have swiftly passed by,
We have missed you very much,
Our family is now larger and spread far and wide,
Your dream to go places would have been fulfilled,
Lord hold us safe and our Dada dear,
Under the care of your loving embrance,
Till we meet him again on those heavenly shores,
We wait for the day we could see him again.
-Loving wife and children
Dr. Cecil Godamunne
The father figure of Kandy
Dr. Cecil Godamunne died a few days ago. We were saddened to learn that this 'father figure' of Kandy town is no more. He had passed away at the ripe old age of 90 years.
Whenever we met, be it at his home in Kandy town or at the headquarters of the oldest Buddhist Association in Kandy – the Kandy Buddhist Association he displayed strong character. He was no doubt, a good Buddhist. As President of the KBA for long years he steered the association to be a powerhouse.
His great concern to save animal life transported under cover of darkness to the Kandy abattoirs market is well known. Another interest was to keep the poor housed in the Mavilmada Elders' Home happy. Dr. Godamunne had a great fund of goodwill and support from people, from near and far .
This outstanding Trinitian, Buddhist worker and medical man will be long remembered for his outstanding service. Today the bells in Kandy toll loud with notes of high praise for his memorable service to animal welfare and humanity.
May he reach and enjoy the bliss of Nibbana.
-Upali Salgado
Neil De Silva
Great sportsman of Mahinda College 
It is little over three months since the passing away of Neil de Silva at the age of 85 years. It is with profound sadness I pen these lines about my former classmate.
From his earliest days at school it was clear that Neil had extraordinary sporting ability. He was one of the most distinguished sportsmen Mahinda College Galle had produced. He was the Captain of Cricket, soccer and athletics teams and sergeant of the senior cadet platoon.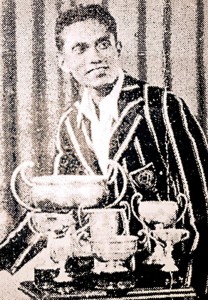 In 1942 he captained the under 14 cricket team and was a member of the college cricket team in 1946 and continued to play for Mahinda till 1950. His good performances as a fast bowler, helped him to be selected for the Combined Colleges side. He was the only outstation cricketer selected to play against the visiting mighty West Indian team. He had the best bowling figures for a school side, capturing four wickets. He was rewarded for this performance by being selected as the 12th man on the National side for the 2nd Test match against Pakistan.
In one afternoon at the Southern Athletic meet he was able to establish three new records in Long Jump, High Jump and Triple Jump. At the Public Schools meet, Neil won the Triple Jump event and was placed 2nd in the Long Jump and 4th in High Jump.
It is appropriate to quote an extract from the magazine "Centenary of Memories" which states:
Neil is one of the few Mahindians who continued his athletics career after he left school; and with what distinction! In 1953 he won the Triple Jump event at the National Championships and was a member of the Ace A C. team to India for the Madras State Olympic Games. He was the only member of the Sri Lanka team to win 2 events, the Triple Jump and the Long Jump at that meet. Then, in 1954, he established a new Sri Lanka (then Ceylon) record in winning the Triple Jump even at the National Championship. In 1958 he bettered his own record in the same event with a distance of 47' 73/4″; for this performance he was awarded the Wilton Bartlet Trophy for the Best Athlete in the field events.
In the same year, he had the distinction of being selected as the Captain of the Ceylon Amateur Athletic Association team to India for the first triangular contest between Madras, Mysore and Ceylon. His team won the championship that year and he himself won the Triple Jump event. The range and depth of his extraordinary sporting prowess is illustrated by the fact that in the same year, he was the Captain of the Saracens Sports Club in the Daily News Trophy Cricket competition! It is little wonder that the cups,shields and trophies he has won fill an entire cupboard at his mother's house."
After leaving school in 1950, he joined a leading British company as an executive. He was in New York for 20 years attached to a well known brokering firm, before returning to Sri Lanka few years ago. He was a Sub-Lieutenant in the Ceylon Navy and was cremated with Military honours.
While in school he won the affection of his teachers, as well as that of fellow students. As a sportsman he brought credit to Mahinda College and to the Southern Province.
May he attain the supreme bliss of Nirvana.
-A Classmate