Lack of staff allows drug syndicates to open up Lanka as major transit route
By Chamal Weerakkoddy
View(s):
In the early hours of last Sunday, Police Narcotics Bureau officials at Bandaranaike International Airport, alerted to an attempt to smuggle drugs through the coastal town of Thoduwawa, Marawila, sped there and found caches of heroin hidden in the scrub along the beach.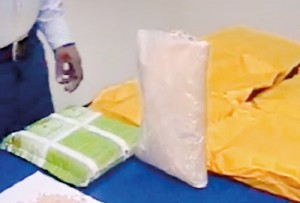 The drugs were allegedly smuggled in from India with the use of local and Indian boats. A total of 8kg of heroin worth Rs. 80 million was seized in the investigation, officials said. Two suspects were arrested but the ringleader, although identified, escaped a police search.
Initial investigations show the heroin had been smuggled to Sri Lanka from India and then transferred by theppama (a traditional small fishing craft) to the beach.
Police believe that this could be a part of a major smuggling racket through the coastal areas.
The re-establishment of the Customs Marine Unit would deter heroin smugglers from exploiting sea routes to Sri Lanka, a top Customs official said.
Insufficient funds provided by the government is delaying the revival of the division that once operated with high-quality boats and equipment that assured border security with the support of affiliated law enforcement institutions.
The Deputy Director of Customs Narcotic Controls Division, Mr. Athula Lankadeva said drug smugglers use demographical advantages in targeted coastal areas of Sri Lanka and tempt local fishermen with money and other benefits into joining heroin smuggling operations.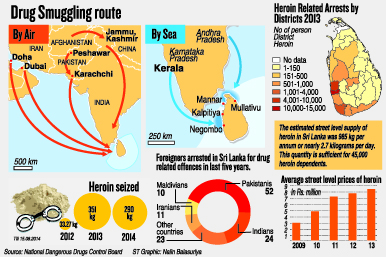 Large loads of heroin are making their way into the country. The Customs Narcotics Controls Division in July last year seized 93kg of the drug, worth about Rs. 656m, from the Orugodwatta container yard, hidden inside an industrial grinding machine imported from Karachi.
The previous month, Police Special Task Force seized 85kg of heroin with an estimated value of Rs. 680m being transported by car on the Biyagama Road in Kelaniya.
A Liberian national with a forged diplomatic passport attempting to leave Sri Lanka was arrested at the airport in 2013 with 30kg of heroin estimated to be worth of Rs.195m.
Sea routes used by drug smugglers connect from the coastlines of the Indian states of Andhra Pradesh, Karnataka, Tamil Nadu and Kerala to the coastlines of Mannar, Kalpitiya, Negombo and Mullaitivu.
Officials believe large amounts of drugs are smuggled in this way since sea and air cargo are under strict surveillance by law enforcement agencies.
Sri Lanka is exposed to both the Golden Crescent (Pakistan, Afghanistan and Iran) and the Golden Triangle (Myanmar, Thailand,Vietnam and Laos), and international drug syndicates are using this advantage to make the country a transit point for drugs reaching Europe, Australia and other foreign countries.
Mr. Lankadeva said Western countries including Australia, and African nations have raised suspicions over the security of their cargo which they say is being used to smuggle heroin, and they feared smugglers had penetrated law enforcement agencies through political influence.
Mr. Lankadeva said the Customs Department, including the Narcotic Controls Division, has been functioning with difficulty due to lack of staff to conduct raids and other functions to the fullest capacity to prevent drug trafficking.
He emphasised, however, that the department, with aid from the United Nations Office on Drugs and Crimes (UNODC) and the World Customs Organisation (WCO), has set up a trained Customs Port Control Unit to counter narcotics and illicit goods trafficking.
He added that the department had been in talks with SITA, a leading specialist in air transport communications and information technology, to upgrade the passenger database to identify individuals involved in smuggling.
A top official in the Customs narcotics squad who spoke on condition of anonymity said 24,000 containers arrive at Colombo port every month but due to lack of staff officials could only inspect 180 containers in a month.
He said a minimum of six Customs Narcotics Controls officers should be allocated to examine a container within a day but that sharply reduced staff levels had forced officials to take three days to examine a container.
He said the amount of heroin being smuggled into the country showed Sri Lanka had become a transit point for drug smugglers – the amounts apparently being brought into the country exceeded the 985kg that the National Dangerous Drug Control Board (NDDCB) estimates domestic addicts use a year.
The official said Customs needed to maintain a high state of vigilance over passengers or cargo from Pakistan, India and Dubai.
According to Customs reports, a Pakistani passenger from Dubai apprehended last year with 216g of heroin upon his arrival had travelled from from Pakistan to Dubai and then to Sri Lanka.
Under pressure from other countries to crack down on drug syndicates, Pakistan checks each passenger thrice upon their arrival or departure from the country.