Remittances, tourism and ICT services growing strengths in balance of payments
View(s):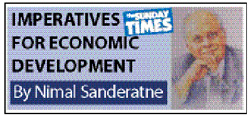 Increased remittances from abroad, earnings from tourism and receipts from other services have contributed substantially to offset large trade deficits of recent years. Consequently, there were balance of payments surpluses in four of the last five years (2010 to 2014).
In 2014, workers' remittance, tourist earnings and earnings from other services amounting to US$ 11.67 billion contributed towards offsetting the large trade deficit of US$ 8.3 billion to achieve a balance of payments surplus of US$ 1.37 billion. These earnings were almost as much as merchandise export earnings of US$ 11.9 billion.
The increasing trend in these earnings and their potential to increase further provides the opportunity to strengthen the Island's external finances. They could generate significant balance-of-payments surpluses to service the external debt, if trade deficits are not excessive. While balance-of-payments surpluses are not necessary by themselves, they help the country to keep orderly external finances.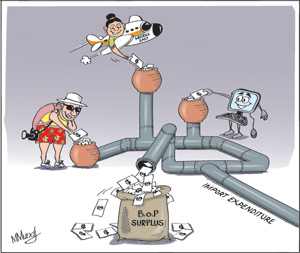 Workers' remittances
Most significant of these foreign exchange earnings have been the progressively increasing remittances from abroad. Remittances have increased by about 350 per cent: from US$ 2 billion in 2005 to US$ 7 billion last year. In 2013 remittances offset 80 per cent of the trade deficit of US$ 7.9 billion and in 2014 they offset 84 per cent of the trade deficit of US$ 8.3 billion. Remittances increased by 9.5 per cent in 2014 over that of 2013 to reach US$ 7.02 billion. Although there were large trade deficits in the last five years (2010-14), there were balance-of-payments surpluses in four of them, primarily due to increased workers' remittances.
While over 50 per cent of these remittances come from Middle Eastern countries, significant amounts are also received from Europe, North America, South and East Asian counties and Australia. They contribute handsomely to the balance of payments and are higher than total annual foreign direct investment grants and aid.
Remittances are for a multiplicity of reasons such as maintenance of elders, purchase of property, and support of family members. Apart from their contributions towards the balance of payments, they alleviate poverty, improve housing and living conditions, education and health.
Tourist earnings
Increasing tourist earnings were also significant in strengthening the balance of payments lately. In 2014 tourist earnings increased to US$ 2.2 billion, compared to US$ 1.7 billion in 2013. This growth in tourist earnings is likely to increase if the country remains competitive with other destinations, provides a wide variety of accommodation, there is peace and social harmony and an unpolluted and attractive environment is preserved.
Trade in services has also increased recently. In the first nine months of last year earnings from services increased by nearly 10 percent to reach US$ 2.4 billion.
Information technology
Most significant has been earnings from ICT services that have been increasing from about US$ 350 million in 2010 to US$ 440 million in 2011, US$ 673 million in 2012 and US$ 719 million in 2013. In 2014 such services are likely to have earned about US$ 800 million. The target is to earn US$1 billion from ICT services in 2015.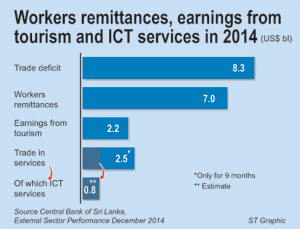 Sri Lanka is ranked among the Top 50 Global Outsourcing destinations and ranked among Top 20 Emerging Cities. An increasing number of firms are now providing such services to Western countries. There is an immense potential to increase these earnings as Sri Lanka's share in the global market is still small and the country could develop a comparative advantage in it.
However, there are serious constraints in training manpower. Proficiency in English and ICT skills has to be expanded considerably to expand these services. At present the country does not have adequately trained persons and training facilities to achieve such a goal. The UNCTAD Report for 2012 has pointed out that "Soft Ware (SW) production in Sri Lanka has witnessed rapid growth during the past decade. It has one of the most export oriented industries in the world". However, it also points out that "Sri Lanka is among the developing countries with the lowest level of SW spending, related to GDP and overall spending on ICT".
It is vital that public expenditure is increased to develop educational infrastructure in science, mathematics, English, computer science and other useful subjects to provide skilled staff for the expansion of ICT services.
Earnings from services too have import content. For instance ICT services require imports of computer hardware and software, tourist earnings are partly expended on imported foods and drink, transport vehicles and fuel and electricity. Remittances too when spent include import expenditure. However, net earnings from these are likely to be a high proportion.
Future prospects
The recent growth of remittances from abroad, earnings from tourism and earnings from other services lend hope that these earnings have a potential to increase and strengthen the balance of payments. If the trade deficit could be brought down to a more manageable level, they could increase the balance of payments surplus significantly and assist in avoiding further borrowing and gradually reduce the foreign debt burden.
The potential to increase earnings from tourism and ICT services require policies that encourage their development rather than stifle them. It is important that the boom in tourism is not busted by violence, destruction of the environment and exorbitant hotel charges that could make the country a less competitively priced attraction. Peace, law and order and social harmony could attract more tourists into the country.
Although there is high potential for growth of earnings from ICT services, the infrastructure for providing adequately trained personnel in the field is inadequate. Increased public expenditure is vital to develop educational infrastructure in relevant subjects to provide skilled staff for the expansion of ICT services. A recent survey found that one fourth of Sri Lanka's population is computer literate and 22 percent of households have at least one computer. This is a good foundation to expand these skills.
Increasing trade in services and especially ICT services could contribute towards a much higher balance of payments surplus that could reduce the foreign debt and save the country from a foreign debt trap.