We will remember 'Master Sir' forever
Kala Korner by Dee Cee
View(s):
Perth –Friday, April 16: As I read the news flash on News First website this evening that Nimal Mendis had passed away, I went back 40 years. I started hunting for 'Master Sir' – the song he composed for Manik Sandrasagara's 'Kalu Diya Dahara'. 'Panakaten mata vedikara dunna – Berivunath bath katak daruvata kavanna…' the song begins. An estate worker pleads for his dignity rather than a pay rise.
Thanks to YouTube I listened to the original sung by Neville Fernando of Los Cabelleros. He sang it with so much feeling and made it so memorable among Sinhala music fans. Nimal himself sang the English version. Karunaratne Abeysekera translated it into Sinhala. Radio Ceylon, as SLBC was then known, broadcast it throughout South Asia over the overseas service. It was an instant hit.
I didn't stop with 'Master Sir'. Glancing through the You Tube collection, I saw Nimal appearing on stage at Pandith Amaradeva's felicitation show, 'Sasara Vasana Thuru', held about a year ago. Being away from Sri Lanka, I had missed it. Wearing his usual flat cap, Nimal first paid a tribute to Amaradeva. "Here is a unique artist, a unique voice, a very humble man and a national treasure," he said. Everyone applauded. Nimal then sang 'When did I meet you – Yesterday, Today or Tomorrow', the first song he wrote for his wife. He had done a Sinhala version for Manik Sandrasagara's next film, 'Seetha Devi' released in 1978. Augustus Vinayagaratnam translated it and Amaradeva sang the song, 'Nimhimsewwa ma katare'. After Nimal sang the English version at the show Amaradeva sang the Sinhala with Nimal by his side. It was a rare treat for the audience.
The following year Nimal directed the music in Sumithra Gunawardena's film 'Ganga Addara'. He created yet another classic. Vijaya Kumaratunga voiced 'Oba ruvachaaya – sangavepaaya' in an unforgettable manner. And then there was 'Ran tikirisina' sung by Nirasha Perera and Victor Silva.
Nimal also directed music in three of Lester James Peris' films – 'God King', 'Ahasin Polowata' and 'Baddegama'.
YouTube also had the early popular instrumental created by Nimal, 'The Kandyan Express', bringing back memories of the days we travelled to Kandy by train.
I met Nimal at Lester's home and we became friends. I remember going to his house down Kotte Road and chatting about music. We couldn't meet often because he was shuttling between London and Colombo. He was a dual citizen. He had 22 songs recorded in Britain in the 1960s and appeared on the popular TV show 'Top of the Pops' in 1968.
He made Sri Lanka his home in the latter part of his life living with the family – his wife (she passed away about five years ago) and son. I met him at one of Sybil Wettasinghe's book launches and learnt he had come back for good.
He was so moved by the December 2004 tsunami tragedy that he composed a song. "It is based on the unprecedented sadness that the entire country is experiencing," he wrote when he started looking for sponsors to do the song in Sinhala and Tamil to raise funds for the victims.
As a tribute to the highly talented singer, song-writer and music director, 'Kala Korner' repeats the words of possibly one of his last efforts at writing lyrics:
1st verse:
Oh see the foam
The foam-crested wave
Everyone is dying
No one to save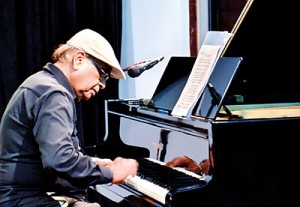 Rising terror thirty feet
Crashing on the shore
Rolling horror on the land
Destroying door to door
Did you need the tsunami
To leave war behind
To come together
Love each other
My child I cannot find.
Chorus:
Tsunami Tsunami
Can I forget this day
My hand has lost its grip
My child is washed away
Tsunami Tsunami
From the bottom of the quake
Why have you done this?
Hundreds and thousands to take
The sea speaks to you man
The sea speaks to you
I'm cleansing your sins man
And all of your motherland.
2nd verse:
I was watching the sea gull
Diving for the fish
It caught the swimming eel
Out of the deep
I remembered the bullet
Past my ear with a swish
I grabbed my child, saved ourselves
With one mighty leap.
Give me an answer
You transgressed the law
What is in your mind now
My child is no more.
(Chorus)