Sweet music to her ears
By Namali Premawardhana
View(s):
Marking yet another
milestone in her musical career, pianist, composer, musicologist and linguist Tanya Ekanayaka launches an album with her original piano compositions
Tanya Ekanayaka launched a debut album of her own composition for solo piano, titled "Reinventions: Rhapsodies for Piano", on March 30. The album contains seven tracks which have all been composed and performed by Tanya herself, and was released under the most prestigious classical recording label: NAXOS (Grand Piano).
"I look back on my life and see that I have never consciously aspired to achieve anything, really," says the pianist, composer, musicologist and linguist.
Tanya grew up in a home that was heavily inclined towards western classical music, and began piano lessons at the age of five. She made her debut public performance at 12 and continued to engage in musical performance even into her post-graduate career at the University of Edinburgh, although not publicly.
It was at Edinburgh where she is currently engaged part-time on the music and linguistics faculty, that another member of the music department, on hearing her practising in a private studio, set her on the path to her current career in piano performance. Since first being invited to perform at St. Martin-in-the-Fields in 2010, she has graced some of the world's most prestigious stages including the John F. Kennedy Center for the Performing Arts in Washington DC in 2012 and others, in the US, UK, Europe and Asia.
Although trained as a pianist, her compositions, Tanya says "are the result of a purely intuitive and natural development," often "complete" pieces that dawn upon her as she sits at the piano, practising for her scheduled performances. It makes perfect sense, then, that her compositions are an intertwining of the song-patterns of her home with motifs derived from the tonal centres of western classical pieces she is preparing at the time.
"Reinventions" in fact presents Tanya's works on the NAXOS (Grand Piano) label as the introduction of a completely new genre developed by the artist-composer herself: "the blend of adaptations of ancient indigenous, folk and popular Sri Lankan melodies (many of which have never been adapted or harmonised for the piano) with motifs inspired by the tonal centres of western classical works".
Tanya's entire debut album was recorded during one weekend in the Reid Concert Hall of Edinburgh University, with her friend and colleague Dr. Owen Green of the music faculty of Edinburgh University as recording engineer.
"I have very fond memories of that weekend," she said in an email interview, "the atmosphere was relaxed and Owen and I being friends contributed hugely to this."
The tracks on "Reinventions" have not been scored or written down as yet, but the compositions, Tanya says, are "frozen" in her memory, "like a poem". This was one of the reasons, she says, why she herself was producer of the album.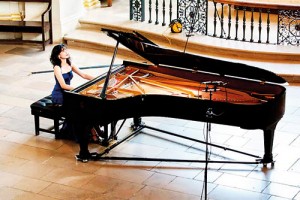 "[It] was a great experience overall, interesting and challenging," she wrote of the production process, "I found myself focussing on my music in a completely different way… to hear and feel [it] as someone else might."
And unlike many who experience great excitement at the end of such a project as this, Tanya says she felt "calm and contented" as she wrapped up the production.
Tanya continues to teach at Edinburgh and is also engaged for further solo performances in Edinburgh, London and Japan. She has also just begun work on a book chapter for Blackwell Publishers, a project she plans to complete by the end of this summer.
"It often feels as though my life is on a destined path," she writes, describing her dreams as a young child, and how they are very literally coming true.