With faith in their hearts and their bullock carts, devotees make trip to Madu
Pix and story by Augustin Fernando
View(s):
Following a tradition that was revived in 2013, after a long lapse, a number of devout families in a convoy of bullock carts this week began a 13-day long pilgrimage starting from the village of Mavila in Marawila to Mannar, to visit the holy shrine of Our Lady of Madu.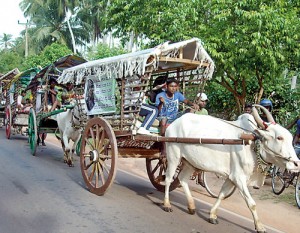 It was the idea of Seebert Abeyrathna a senior villager to bring back an almost dead tradition by orgnising a bullock cart pilgrimage in 2013.
In its third year this time, these pilgrims will have five days to cover the 250 km from Mavila to Madu, three days to spend time at the shrine and the return journey back home which will take five days, on Friday 17, the faithful pilgrims flocked to the Church of Our Lady of Victories, Mavila, to attend a special service to be blessed.
According to Mr. Abeyrathna, who leads the convoy of seven carts, the bulls will get plenty of rest especially during mid-day.
As the bells that adorned the bulls tinkled, signaling the beginning of the long journey, crowds assembled by the roadside to wish the pilgrims.
The journey that sees the participation of families from Mavila, Wennappuwa, Sirigampola and Katuneriyais sponsored by C. Titus Fernando of Naththandiya.