Sweet and sour
Aanya Wipulasena samples the varieties and flavours of street food in Kottayam
View(s):
Handloom wall hangings of vibrant colours, white cotton sarees with gold borders and kurthi tops on mannequins make a walk down an Indian street interesting. But what adds more flavour to any person is the street food found in every nook and corner in the country.
These spicy, sweet and sour delicacies gained India the name 'the street food nation' and it lives up to this name everyday. There is a wide range of mouth watering food, sold by vendors for generations in India. The food differs in taste and variety from state to state and sometimes even district to district, which makes a visit to any of these places unique.
The distance from Manorama Junction to Central Junction, near Thirunakara Maidanam in Kottayam, Kerala is a mere 500m but walking this stretch can be a nightmare. The junction can get heavily congested with buzzing motorbikes, reckless driving of bus drivers and tuk tuk drivers who honk every two minutes. During office and school closing times it gets even worse. Yet, the walk is worth it because the junction leads to a culinary haven.
Mulaku Bajji- capsicum fried is the favourite of most who love street food. Cut and cleaned capsicums are dipped in a batter of blended gram flour and chili before being deep fried in boiling hot coconut oil and served in a platter of delicious and eyes tearing chilli chutney. A Mulaku Bajji, crispy and hot, sold by street side vendors will cost Indian Rs. 6 but be warned, they can be very addictive and you'll soon be asking for a few more.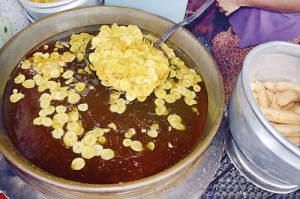 There are other bajjis that tourists and the locals (Malayalis) love to eat. One of them is the banana bajji where bananas, are cut into pieces and dipped in a batter made of gram flour mix and deep fried, again in coconut oil. This is also an evening snack in many homes and has a unique smell and flavour that lingers in the mouth.
When talking about Kerala banana's one cannot forget the chips – the signature snack of the state. This is a very fancy way of cooking bananas and could be quite alien to most of us. They make the chips out of ripe banana slices which are deep fried in oil with a bit of turmeric to turn a bright yellow. Most of the banana chip stall owners have been in business for generations.
Babu, who uses only one name, is a 32 year old who works at a banana chip shop where members of his his family have sold the chips for generations. "Iwork in a shop where they have been selling banana chips for over 50 years," he said. Babu starts work at around 3.00pm and continues frying banana slices for hours at a stretch. He said, "it gets tiring sometimes but we have at least 100 customers per day. People love these chips."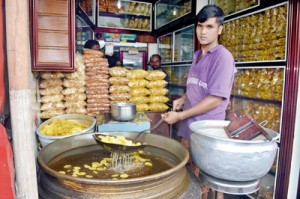 Come Summer, Kerala gets very hot and temperature rises up to 40 degrees celsius. A drink that most recommend that is both delicious and nutritious is sugarcane juice. Sugarcane juice is very common in India. If you see a heavy looking machine with big wheels then you might have seen a sugarcane juicer.
To juice it, a man crushes sugarcane sticks in the machine and sticky juice is collected in a mug. When served they even add an ice cube into it, which is delightful. A little treat that cannot be left out is the roasted peanuts, sometimes served with salt and lime. Peanut hawkers can be found in any market, college and even a hospital in Kerala.
Roasted on a pan with sand, peanuts can easily be what you would chew on when going shopping in the busy streets here.
Street food in Kerala is characteristic of the cosmopolitan culture in the state. And to savour a bite is what makes a visit to the state unique and adventurous.