Magic maestro Ronald honoured
View(s):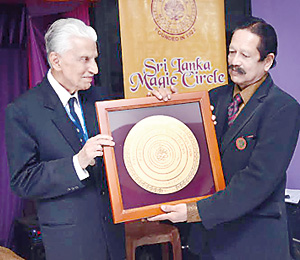 The Sri Lanka Magic Circle celebrated its 92nd AGM recently and the special occasion was held to honour magic maestro Ronald de Alwis. The Board of Management honoured Ronald, for his services as President from 2007 to 2014 and from 2001 to 2004, whereas he served as the Executive Vice President from 1992 to 2001. During this period, he negotiated with the Ministry of Cultural Affairs and the Arts and the Tower Hall Theatre Foundation to successfully obtain a block of land in the precincts of Kalapura in Mount Lavinia.
He joined the Magic Circle on 8th January 1952  and being the only magician with the longest period of active membership and therefore the Board of Management of the Sri Lanka Magic Circle conferred on Kala Bushana Lt. Col. Ronald de Alwis, for the first time at the 92nd  anniversary, the coveted title of President Emeritus of the Sri Lanka Magic Circle on 29th March 2015. Ronald was also made an Honorary Life Member and a worthy Plague of Honour, presented by the grateful membership.
Ronald as an award winning magician, is prepared to give a helping hand to beginners (Kids and Adults) and he could be contacted on 0723399874 or on magicana@sltnet.lk