Gindari A comedy around a she-devil
View(s):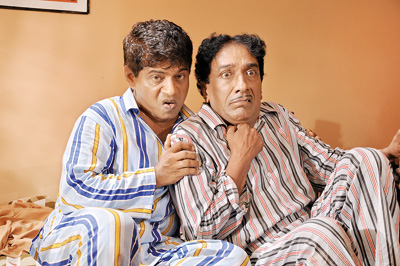 'Gindari' the second installment of Bahubuthayo directed by Udayakantha Warnasuriya is one of the newest films that will be screened following the Sinhala-Tamil New year celebrations on April 17 at the theatres of Ridma and Cinema Entertainment circuits.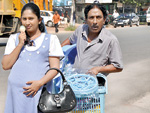 In the new film a number of new stars have joined Paboda Sandeepani (Tikiri), Mahendra Perera (Lanty), Rodny Warnakula (Bunty) and Richard Manamudali who make a comeback. They include Sriyantha Mendis, Lochana Imashi, Ravibandra Yasas, Lucky Dias, Menike Attanayake, Rathna Sumanapala, Sarath Chandrasiri, Susila Kottage, Ariyasena Gamage and a few others.
Revolving around a she-devil in town the comedy movie once again narrates around Bunty and Lanty, a journalist and a photographer who are faced with a series of unexpected troubles.  The film starts with Tikiri coming to the city in search of the two journalists. She starts to live with them and do their work. But following a misleading news item relating to a minister which has been published, the minister comes to the house where Bunty and Lanty live and beats them. The minister who sees beautiful 'Tikiri' takes her by force to work in his ministerial office.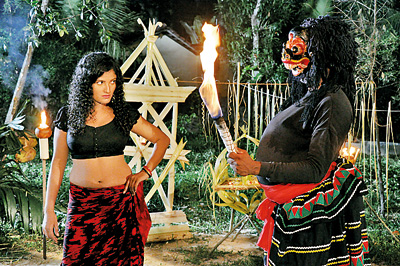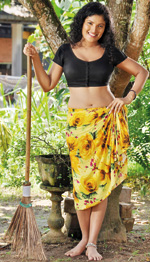 In the meantime pressurised by the parents, Bunty gets married to a girl named Malkanthi. But they don't match each other and start quarrelling very often. Finally Malkanthi leaves Bunty. At the same time Tikiri, the devil in disguise, who rejects the to minister's undue advances returns to the house where Bunty and Lanty live. This gives way to another series of problems. Will the journalist duo manage to get rid of the devil this time? Await the release of 'Gindari'.
Shot on location in and around Colombo and Anuradhapura K. D. Dayananda handled the camera and editing and sound management was by Praveen Jayaratne.
Make up by Nalin Prematilake, art direction by Aruna Dias, the musical score is by Ananda Perera.  The film also marks entry of young Dream Star famed singer M. G. Dhanushka to playback singing in cinema.