Fashion for a cause
View(s):

The prefects of the Elizabeth Moir senior school will be hosting a fundraiser in the form of a fashion show. They hope to raise funds to provide design and art material for the less fortunate youth in rural Sri Lanka through the Foundation of Goodness.  What motivated this project was the realisation that, while students from privileged backgrounds have a plethora of opportunities to pursue their interests in the field of design, many others from disadvantaged communities do not, a statement on the fund raiser from the school said.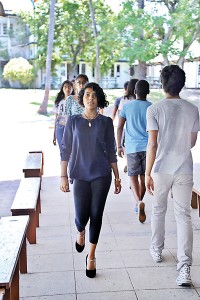 The fundraiser aims to provide rural youth with a chance to gain some exposure in this field and an opportunity to pursue their artistic passions.
The fashion show, which will be held on April 25 at Park Street Mews, is a collaboration with local designers like Ramona Pulle, Latika Alok, Sonali Dharmasekara and those from Salvage, Sri Lanka. These designers will display highlights of their recent lines alongside the designs of the students of the school. The event will also feature song and dance performances by some of the school's talented students.
The funds raised at the fashion show will go towards the organising of workshops for the rural youth. The prefects of Elizabeth Moir school look forward to being actively involved in these workshops and share their own passions with their peers from other parts of the country. Tickets priced at Rs 700 will be sold at both Park Street Mews and at the
Elizabeth Moir Senior School reception.
For more information, please call (011) 251 2109.