The Serena-Simona classic
Miami Open semi-final 2015
View(s):
The last time third ranked, Simona Halep played Serena Williams ranked one, was in the finals of the 2014 WTA championships in Singapore. It was a cake-walk for Serena. Simona Halep was fresh from winning the Indiana-Wells title two weeks ago when she met Serena again in the semi-finals of 2015 Miami-Open last week. After the first set which Serena won comfortably, I thought it is going to be another steam-roller performance from Serena. To my surprise, Simona Halep came out with a strategy that was effective against Serena. Tactically, it was like finding a needle in a hay stack. The match went to the full length and turned out to be one of the best women's matches to date this year.
Most of the players in the top thirty of the world ranking get to that position by playing their comfort-zone-game. Often it is labourious and can be without variation. To beat a big-gun, one needs a second game or better said an effective variation. Without this, it is difficult to beat an accomplished player in the top five of the ranking. Women players in the top five, have a fierce pace which can out pace and tire their challengers. This is what happened to Halep in the Miami-Open 2015 semi-final. She managed a subtle change in the second set and won. It was not easy to spot what she did.
Self before opponent
Tactically it is by placing 'self' in central focus we can 'lead' an attack. This is a cardinal rule in the book of tactics in Tennis and it could be told in most sports. It is very easy for a player to see what the opponent is doing tactically in Tennis, but what 'they' are doing especially when losing, will go unknown to them. This happens because inexperienced players are always busy finding an answer to an opponent's attack and not planning and leading an attack themselves. This is exactly what happened to Halep. She was playing her favourite game unfortunately for her, Serena loved it. After the first set Halep's coach spoke to her. Some events now allow this on an experimental basis especially in the USA where they are trying to make Tennis different and interesting to spectators.
In the first set, the speed at which Halep sent the ball back to Serena did not give herself enough time to recover. Halep was, as much as two steps short, to reach the ball after the third shot of the rally and the set went in favour of Serena. Most of the rallies in the first set were never more than five shots.
In the second set, Halep mixed the speed, mostly reducing speed whenever possible and the rallies went to the seventh and tenth shots. It made heavily built Serena, tired. The extra time also gave Halep to get to net and get some crucial points. Since Serena was not giving her time, she induced time for herself into her own shots. It was a very smart move but not easy achieve positive results always. Halep did a marvelous job doing it and won the second set it challenged Serena to the utmost. It was by far, the best women's match so far and worth a second viewing.
The tricky third set
Serena realized Halep was on top of her game after the second set and showed what she is made of in the third set. Serena broke service early by forcing her way often to net and lead with a service break, making Halep the 'underdog' – a position from which Halep was never able to recover. Although Halep managed to even out the match many times, Serena's ability to sustain a huge game gave her the third set and match at 7/5. Halep's challenge will be remembered and the last two sets would go as another classic in Tennis.
Superior players adapt very efficiently to baseline games. If Halep had a good net-game in place, to win six to eight points more, she could have beaten Serena in the third set. Halep is only 23 years old and that is 10 years younger than Serena. Unless she develops a strong net-game as an alternative to win matches, she could be in trouble in keeping the position she is in now. Halep's strengths are agility, low error rate, ground stroke winners and being a fluent mover with a real good serve. Adding a reasonable net-game should be easy for her with such weaponry to support.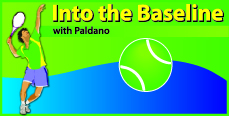 Injured knee?
Long rallies can cause injuries. Halep played this match wearing supporting straps to her knee. I thought it funny because it was Serena who gave a walk-over to Halep in the semi-final of Indiana-Wells, citing a knee injury and she played the match against Halep without any bandage on her knee in Miami-Open. Generally knee injuries do not recoup that fast.
This year's tournament schedule in Europe is packed. European tournaments are difficult and are mostly on slow clay. Good tactics and variety in skills is the best formula to win on clay. Good players will not play every event but choose the ones with a 'bigger purse.' In the women's side, some new names have propped up recently. In the men's however, the lineup comprises pretty much of known names. But then, an unknown 'dark horse' could always be lurking!
-George Paldano, former international player; Accredited Coach of Germany, National coach, Davis Cup and Federation Cup Coach; ITF and USPTR; –gptennis.ceylon@gmail.com-