Letters
View(s):

High-level drains and low-level roads: Whom to tell?

While many letters have appeared in newspapers for and against the Colombo City beautification, what is taking place in the Pelawatte-Battaramulla area will baffle everyone.

How new road side drains are being constructed along Pelawatte-Battaramulla area needs some explanation from the engineers responsible for the design. Where I live there is a shop that had its own parking area sufficient for about three cars. Now the new drain constructed goes about one foot above the parking area making any parking possible only by lifting the cars in and out of the car park. This elevated drain then drops into the drain opposite the Ratnayake Mawatha which is about two feet below the drain level.

Simultaneously the drains along the Pannipitiya Road are also at varying levels compared to the houses on either side compelling residents to build ramps to enable them to take their vehicles into their premises. These ramps in turn become an obstruction to roadside parking which is now possible only in the space between two ramps. The question that arises now is "Which way the water will flow when it rains?" Is it from the land to the drain or vice versa?

Stretching my imagination as an engineer is whether the road level will be raised which will again require already constructed centre medians to be also raised at great cost, not to mention the flooding problems to be faced by the residents living on either side.

Living in an era where we get no answers to many problems we face, everything boils down to the question "kata kiyannethe?" (whom to tell?)

Eng. Anton Nanayakkara
Battaramulla

25 more parliamentarians: An unwarranted, unproductive and wasteful investment

We learn from the media that moves are afoot to increase the number of seats in Parliament from the present 225 to 250.

We as civil society members and taxpayers who foot the already astounding costs of our political machinery reject such an appalling move hatched in the womb of sheer political expediency. It is indeed a crime to expand the existing political administration structure, which has become a money spinning industry in a small developing country such as ours. It is a colossal waste of public funds and will lead to enhanced levels of corruption.

As a result of India's intervention, we are saddled with a low-productive, high-cost provincial administration structure. Since it is in existence for the past 28 years, it has become a necessary decentralised administrative tier for obvious reasons. Thus, the more prudent step is to empower it adequately and improve its performance and productivity to derive maximum benefits for the people. In such a scenario, it is ridiculous to increase the number of parliamentarians when in fact it should be reduced. As taxpayers, we consider such additional investment highly unwarranted, unproductive and wasteful.

At this juncture, it is pertinent to reflect on the huge investment that the taxpayer is already making to sustain the existing, unproductive political machinery which has become the bane of this country. At present, the country has 225 MPs, 455 provincial councillors and 4,486 local government councillors. They add up to 5,166. In addition to meeting their salaries and allowances, if we consider the huge cost of support staff, buildings, furniture and fittings, vehicles, electricity, water, telephone and stationery, we would be compelled to treat such costs as mere unproductive expenditure rather than a prudent investment. We must also bear in mind that an increase in the number of Parliamentarians also tends to justify an increase in the number of Cabinet portfolios. The attendant increase in cost has to be reckoned. Further, we have to consider the enormous cost of maintaining an Executive Presidency.

We earnestly appeal to political analysts and civil society activists to work out and reveal to the taxpayer, the enormous cost of this investment/expenditure to maintain the country's political machinery.

It is a cardinal feature of 'good governance' to promote the citizen's 'right to information'.

Bernard Fernando
Moratuwa

Ban beggars and blasting music in buses

I read with interest the article in the Sunday Times last month on the ban on beggars and vendors in trains. While commending the authorities for this move, I would like to ask "how about banning them on buses?"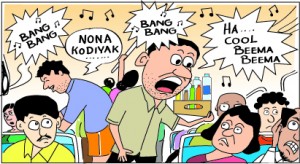 Beggars are an utter nuisance and at times even a threat to the passengers whether in the train or bus. On February 3, I was rushing to the hospital to see my niece who was seriously ill and completely lost in thought when a man tapped me on my shoulder asking me to buy a sticker of the National Flag which he claimed he was selling in aid of some sick person. I was both irritated by his tap on my shoulder and the fact that he was "selling" the National Flag in this manner! I only said one word, "No" (Epa) and the man started insulting me saying that I seem to be having family problems and that I shouldn't take it out on a poor man like him!
I was too shocked to say anything and also knew that even if I had said anything in protest I would be certainly on my own with other passengers ignoring me and continuing to support the "poor" vendor who, sad to say, looked like a drug addict to me!
I travel to work daily by bus and this is just ONE incident that I have mentioned. I strongly suggest that this ban on beggars and vendors in trains should be extended to buses as well.
Also, on a different note, could somebody tell me who I should write to or call regarding music being played at full blast in buses? The sound of the radio/music in private buses is, without exaggeration, unbearable at times. People go home by bus after a hard day's work, at times their heads heavy with problems, or headaches! The driver keeps tooting the horn nonstop, the conductor keeps shouting all the time, the other vehicles on the road also keep tooting their horns, and amidst all this noise, the radio or a tape of music is turned on full blast, making it impossible for the driver to even hear the ringing of the bell to indicate a passenger is getting off!
Sad to say but the type of music that the conductor and the driver prefers, is often not the type of music that every passenger in the bus would enjoy. I suffer from migraine and spend four hours travelling by bus daily! I have often asked the conductor to reduce the volume of the music but to no avail! Is there no law on noise pollution?
I strongly suggest the authorities ban radios on buses since neither the drivers nor the conductors seem to understand that the volume of music should be kept low in public transport!
P. Ranasinghe
Ratmalana
Say 'no' to full-face helmet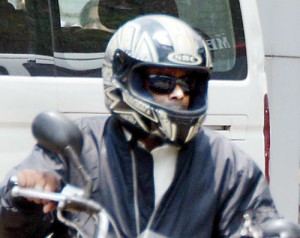 I am a motorcyclist, and the first thing I did when I bought my full-face helmet was to remove the plastic covering. This was because a friend of mine lost his eyesight in an accident and the plastic covering of the full-face helmet he was wearing was blamed for it.
I notice some helmets come with chin guards that cover 75 per cent of the faces. These should also be banned. Bank robberies and killings are carried out by persons wearing helmets with tinted face cover. These should be banned and not permitted under any condition.
A motorcyclist
New Year of national unity
The April New Year
Comes with nature's blessings
With the golden grain
Filling the barns,
The fruit trees are proud
Of multi-coloured fruits
With attractive birds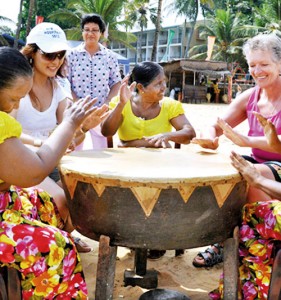 The 'Singing Star' – Cuckoobird
Proudly sings its tune.
The proud Erabadu with big flowers
With its red carpet below
With the red canopy overhead
Proudly dances with the wind,
The joy of festivity hovers
On the eve of the National New Year!
Families get together
Dine and exchange gifts
Respecting elders
Thus renewing good customs
Seeing each other is enjoyment
Second to no other!
Swing on the swing
'Rabana' spreads its sweet music
Even different communities
Enjoy together promoting ethnic unity
Sacred places as Kataragama, Adam's Peak
Give a silent call for ethnic unity.
On this auspicious day
Let us pay tribute and honour
All those who sacrificed their lives
In the 30-year-war against 'separatists!'
May the April blessings
Bring eternal peace to our Motherland!
May all communities be standing
Under one banner smiling!
Malini Hettige
Galle
Hand over the presidential palace to Jaffna University
This is an urgent appeal to Tamil parliamentarians, the Northern Province's chief minister, ministers, councillors, the vice chancellor and faculty heads of the University of Jaffna, university student unions and religious leaders.
It has been widely discussed in the media in the past few weeks that the previous President had built a presidential palace or International Conference hall on a 200-acre land in KKS. When the present President visited the site, he was amazed and said he did not want to use this lavish facility built with public funds and wanted it converted to a tourist hotel.
Later it was reported that the Chief Minister had requested the President to hand it over to the NPC. Last week when the Prime Minister visited Jaffna, he said the Jaffna public were very generous and allowed this building to come up in their province and suggested that this could be developed as a six-star hotel to attract tourists.
I, as a Sri Lankan, know very well, that Tamils came up in life in two ways: "Either till their soil or till their brain". The Northern Tamils till every inch of the fertile soil and resort to crop rotation and multiple cropping. They also till their brain by burning the midnight oil and studying hard, pawning all their parents' jewellery and spending their hard-earned money to enter university and come up in life.
In the good old days we saw mothers carrying a hurricane lamp in one hand and a flask of tea in the other and taking their children at 5 a.m. to the tuition class. When children studied till 11 p.m., parents would sit by their side, breaking rest to support them in their education.
Why not give this building to the Jaffna University? By doing so they could cater to another 300 students from all over Sri Lanka.
We read in the news that this building has conference halls, 400 rooms, a car park, recreation centres, swimming pools, gardens and other facilities.
This is a golden opportunity for the vice chancellor, the deans, the chief minister and others to urge the Government to hand over the building to the Jaffna University instead of converting it to a six-star tourist hotel.
Sinclair Peter
Via email