Kiti kiti kiti kiti… the sound of Avurudus past
By Krishnajina Rajapathirane
View(s):
Kuhoooo… Kuhoooo… Kuhooo… the melodious song of the Ceylon cuckoo, the koha, mingled with the morning breeze is heard again. The mango tree fills with flowers and a few small mangoes at the edge of the branches indicate that it will attract many more birds to our garden in the next few weeks. Butterflies flit in, making the garden look brighter. The Avurudu season has started!
My mind goes back a few decades…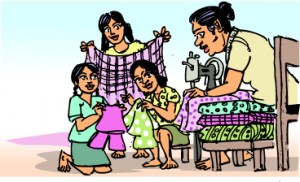 Avurudu, to my mother, started no sooner January ended. Having a passion for stitching, Avurudu gave her a good reason to spend her time sewing. Blessed with three daughters, many female domestic aides and their little daughters, by the first week of February, we could see her planning her shopping sprees to make all the items on her list.
She would convince my father and he would escape by assigning a driver to her. We all got equal chances to accompany her on the pretext of helping her with the shopping. By 9 a.m. we were in the vehicle that my father had sent for her, and soon after in Colombo Fort, her favourite shopping spot, filled with pavement hawkers trying to convince the shoppers of the great bargains they were offering. My mother preferred walking down these roads rather than being driven, and would instruct the driver to park in a comfortable shade, never forgetting to hand over some money for his lunch and soft drinks.
She walked from one shop to another, selecting material and other things on her shopping list. I used to wonder whether the pavement hawkers knew my mother the way they used to address her. 'Enna Nona, Enna… Lace laabayi, lassana boththang thiyanawa,' they would call out and to my horror she would smile and say, 'Redi aragana ennang' which indicated a few more hours of walking. But complaining was totally prohibited with her. Not wanting to be left out of the next trip, I kept silent.
But the best part was when she asked 'are you hungry?' with a knowing smile on her face. I'm sure my face lit up as I said 'Yes'. 'OK, let's go to Pagoda," she would smile. In an era when there were hardly any take-away places and fast food restaurants Pagoda was our favourite cafe. She would buy a generous meal for the two of us. This was the only place I remember in her regular shopping itinerary.
All other places looked similar to me. All I could see was material, buttons, ribbons, laces, thread, many people and noise. My mother carefully matched each material with the accessories. She did not seem to hear the noise. At the end of the day, we would return with Amma looking quite pleased. Soon her sewing nook was piled high with the material and accessories.
Then came the stitching time. She needed only the measurements of the waist, height and the arms. Within a few minutes she would have cut the garment. This was the time of the day she refused to answer the telephone or the door-bell. Her main priority was stitching. We could hear the machine going kitikitikitikiti… with Amma skilfully handling the mechanical pedal and manoeuvring the garment under the needle. That sound always gave me a cosy, homely feeling. But sharp at 4 p.m she would ensure that the sewing area was clean and tidy, as we all awaitedThaaththa's arrival. As a responsible house wife and mother, she would attend to our school work, Thaaththa's meals and start her favourite hobby after we all went to bed. 'Kiti, kiti, kiti, kiti…' the machine would go on. No one was disturbed, because it was in a section away from the bedrooms. However, during our exam times this was, in fact, a blessing for all three of us. Knowing that Amma was awake, we never felt alone studying in the night – it gave us a sense of security.
However, having several garments to sew, and the responsibility of filling up the larder with sweetmeats, she had to delegate some of the stitching to her daughters. After she finished about three garments, she would summon the three of us and assign a garment each. Hems, armholes, button holes, hooks and eyes… all to be done by hand. Quality Assurance was the worst part of the process. She would inspect and gets us to re-do it if she didn't like the way it was done. Most of the time I had to take the responsibility for my younger sisters!
Then came the arrival of the visitors, the old maids and their clans, to see Amma. She would not hesitate to stitch something for them too. Her motto is 'Everyone should look bright and happy on New Year's day'. So we would have another round of doing the finishing touches.
The dawn of Avurudu is the day we all looked forward to – to be clad in the bright newly stitched garments that Amma had made over the months. There would be about a dozen of us lined up in her varied designs which were unique. It would have looked like a catwalk.
The time of lighting the hearth was her next important moment. I was always entrusted with announcing the time. As girls, we had to be present in the kitchen 10 minutes before, arranging the hearth to boil milk. She never believed in lighting the gas or the kerosene oil cooker, because it did not give the 'Avurudu feeling'. So ready to be covered in smoke within the next 15 minutes, we stood attentively handing over the twigs, the milk pot and what not.
Times have changed. Now, with the advent of ready-made garments and us starting our own families, Amma started stitching for her grand-daughters, mainly for my little niece Chirathi. The moment Chirathi wears a dress, I know if it's my mother's masterpiece or not.
A few days ago, during my weekend visit to my sister, who is my neighbour too, Amma showed me a garment she had bought for Chirathi for this New Year. It was pretty, but as I looked at Amma, she knew what was on my mind. "'I find it difficult to stitch now," she said and I felt my heart being pricked with a needle. Trying to hide what I felt I smiled and said 'It looks beautiful… it's a lovely selection…'
The era of home sewing seems to have ended. Though I was trained to sew, and have made a few clothes for my daughters, they look much better in readymade garments. So my sewing talents were restricted to the dolls' clothes I made during my childhood and the baby shirts stitched for my kids before they were born.
The art of sewing seems to have disappeared altogether from the younger generation, except for those who pursue it as a career. It's a matter of accepting the change. Change is the only constant, but lives and generations go on.
Kuhoo… kuhoo… kuhooo… The voice that took me to the past and then to the future is heard all over again. The past is gone and the future is yet to come. Being happy in the present moment is what is most important!