Dilly's Avurudu look inspired by folk tales
View(s):

Folktales told fondly to children however, encapsulated an entire culture's values, beliefs and habits. Interwoven into these folktales were the very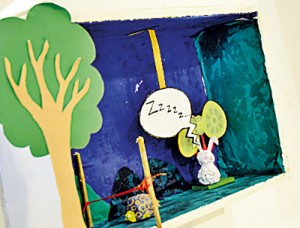 fabric of cultural identity, passed down from generation to generation, in order to groom impressionable young children for life in society.
Dilly's, the designer store inspired by the beautiful folk tales of Sri Lanka, have used them as the foundation for their Avurudu Batik Collection. Each garment represents an intricate story in itself, with stunning prints and classic shapes!
The mind of a child is brimming with inquisitiveness and ancient hand-made toys such as the 'Kos kola Otunna' and miniature windmills made of coconut tree leaves symbolize the simple yet unbounded imagination of a child. Dilly's has recreated those nostalgic memories by filling their showrooms with these childhood treasures of the past, and if you look close enough you might be able to spot a few for yourself!
Established in 1987 as a women's fashion retail store specializing in unique design pieces using fabric sourced from around the world, the brand has evolved into the present-day Dilly & Carlo. The individual brands unique to the Dilly & Carlo store include, Dilly's Voyages, Dilly's Formal, The Moods Collection, Tammy, Carlo and Carlo Boy.