A fitting tribute to the great musician
Kala Korner by Dee Cee
View(s):
Veteran journalist Tillekeratne Kuruvita Bandara deserves a pat on the back for the consistency he maintains in the SLBC quarterly journal, 'Handa', which he edits. He selects interesting themes, gets authoritative writers to contribute, selects relevant photographs to add value to the articles (the quality of some, however, is pretty poor), and above all he has not allowed publication to fall by the wayside – at least not until now – and I hope the new management will allow him to continue.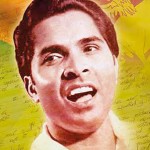 The latest issue is devoted to the great musician Sunil Santha – a most timely selection with his 100th birth anniversary falling this month. It is indeed a well-deserved tribute to one of the leading musicians of our era. The editor has also been thoughtful to include some articles in English since the Sunil Santha songs are so popular with the English speaking public as well.
In one of the English articles, Dr. Ruvan Ekanayaka (I know he has a fine collection of Sunil Santha songs) says that the musical genius of Sunil Santha could not be contained within the rather sterile forms of Ragadhari music. "Heavenly melodies poured out of Sunil's creative force, enthralling the nation as a whole," he adds. "Fearlessly he aligned himself with the Hela schools of Cumaratunga though it was obvious that the academia and establishment were against it. He paid the ultimate price for his tenacious adherence to his convictions, by being banished from Radio Ceylon, which he had considered to be his home ground". Stressing that Sunil Santha's music was characteristically simple, he points out that highly artificial ornamentation was absent in his music compared to the highbrow compositions of some others, which were appreciated more for their technical perfections than aesthetic beauty.
"His musical legacy is a lasting treasure trove of melodic themes which have the potential to be developed into full symphonies. Perhaps what we need today is a scholarly analysis of Sunil's music, to dissect out and lay bare the techniques of composition which he utilised to express the Hela idiom. So far the intelligentsia of this country has not been up to this task. That is the tragedy of the nation and the misfortune of Sunil Santha," he ends his short and thoughtful piece.
In a way, 'Handa' is an effort – at least in a small way – to do exactly what Dr. Ekanayake suggests. Several university dons and academics discuss Sunil Santha's contribution towards paving the way for a Sinhala music tradition through his creative talent. Then there are others who portray his humane qualities and how he never did anything against his conscience and always stood for justice and fair play.
Journalist Ranjit Kumara presents a touching picture of the difficult days Sunil Santha spent with no proper place for the family to stay, no cash in hand and with four children to be educated. When Ranjit went to interview him, Sunil Santha excused himself till he finished repairing a radio set but in between chatted about their hard life. The day after Ranjit's article appeared in the newspapers Housing Department officials were at Sunil Santha's doorstep on their Minister R. Premadasa's orders to offer him a house. They took the couple to the newly built Narahenpita flats. He said a flat wouldn't suit the quiet environment he needed for his creative work. Then he was offered a house at Rajagiriya. He liked it, but insisted on paying a monthly instalment to cover the cost of the house. "Thank the minister for his kind gesture but tell him not to ask me to sing at his functions," Sunil Santha told the officials.
Dr. Carlo Fonseka's response to a request once made by Sunil Santha's wife to write about his personal experiences is very interesting reading, as always. He recollects the days when as a student at St Joseph's, he attended a music class held in college. He was mesmerised by the teacher's personality as he watched him getting down from his Baby Austin car and thrilled when he got a lift back home to Seeduwa, with Sunil Santha going out of his way to drop him. This was in 1948.
The editor had taken the trouble to unearth radio programmes discussing Sunil Santha's work in the context of contemporary music and articles by renowned broadcasters like H.M. Gunasekera. He has also picked a thought-provoking article written by Sunil Santha from the latter's book, 'Desheeya Sangeetaya'.
An English version of a commemorative talk by Tissa Abeysekera traces Sunil Santha's musical journey. The 165-page journal carries many more features.
Ivor Dennis talks about his experiences with the 'guru' and Sunil Santha's son Lanka sums up his father's contribution towards Sinhala music.
Professor Vinnie Vitarana details the milestones in Sunil Santha's life in chronological order. It's a fine commentary on his life.
The inclusion of the lyrics of over fifty songs sung by Sunil Santha and a complete list of songs along with their lyric writers and composers offers a ready reckoner to the readers.
I was happy to see a picture taken with the family (page 150) in the late 1960s at his Dehiyagatha home taken by Chandra Weerawardena when he accompanied E.C.T. Candappa and myself to do a feature for the 'Sunday Observer'.
Talking of the family, amidst all the ups and downs, Sunil Santha was happy that all four children had a university education- the three sons becoming engineers and the daughter a veterinary surgeon. The death of one son – an engineer at the Steel Corporation – by drowning in a swimming pool at a hotel during a picnic, was a big shock to Sunil Santha, who passed away after five weeks on April 11, 1981.
To the 'Handa' editor I say "Well done. Continue the good work.