Turning gas into cash
By Namini Wijedasa
Lanka needs national policy to attract investors as Cairn Lanka exploration ends
View(s):
Sri Lanka's last confidentiality agreement with Cairn Lanka will end this month, leaving the Government free to share advanced 3D seismic data gathered in the Mannar basin—including information on two gas wells identified there.
But to attract global players in oil and gas, Sri Lanka must amend its Petroleum Resources Act, give autonomy to the Petroleum Resources Development Secretariat (PRDS) and introduce a national policy that outlines options for investors to turn the gas into cash.
"We have to solve the problem of delivering the gas to the market," said Saliya Wickramasuriya, Director General PRDS. "With oil, it is easy. You put it into barrels and send it in a tanker. For gas, you either have to build a pipeline or liquefy it. The latter is only viable if there was huge output. We are not there yet."
The only option currently available to investors is to sell the gas to Sri Lanka. This requires the Government to consciously promote a gas-based economy; introducing gas-driven public transport or power generation, for instance. But here, too, it has lagged behind, partly because of huge initial cost. The returns are long-term.
Alternatively, the Government could permit the construction of a pipeline at the investor's expense to enable the sale of gas to India. The policies must be defined, industry experts urge. If companies find gas but cannot do anything with them, they will go somewhere else.
Cairn Lanka, a wholly-owned subsidiary of Cairn India, has informally notified the Government that it is pulling out. "They have not applied for an extension of their third phase," Mr. Wickramasuriya confirmed. "This means the Petroleum Resources Agreement stands terminated in October 2015, when the current phase ends."
One of the reasons for Cairn's departure is a corporate restructure which saw it retrenching a large number of employees at its Indian headquarters, many of them in exploration. After recently being bought over, the company is realigning its priorities; and its portfolio does not include development of marginal gas fields.
"The whole industry knows that, unless something magical happens, Cairn's own corporate restructuring is taking it away from Sri Lanka," the source commented. But the industry also knows that Cairn has struggled to find opportunities for selling the gas discovered in the Mannar Basin. "Commercialisation of the gas discoveries made on the block continues to present challenges," its last quarter report says, staidly.
Sri Lanka is now left with a rich repository of data which, Mr. Wickramasuriya said, "gives us renewed confidence about the block." Geophysical modelling has shown there could be five times more gas in the same basin as the Dorado and Barracuda wells. The Government's priority is to continue to operate the block.
"We are informally talking about operating this block," the Director General revealed. "Whoever is interested will check what returns they get from the investment. And whoever takes it, the Government of Sri Lanka will have to purchase the gas from them. They have no other market."
Meanwhile, Power and Energy Minister Champika Ranawaka is likely to constitute a multi-ministerial, multi-sector technical committee to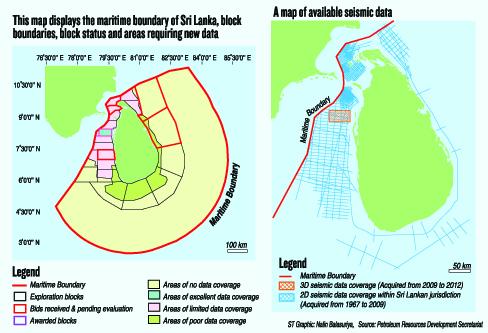 explore options to commercialise the gas. "A new and efficient legal framework and a new natural gas policy are being formulated," Mr. Wickramasuriya said. "The main questions international investors have are, 'Do you have a good law?' and 'How can I convert my gas into cash?'"
Sri Lanka has the option of selling exploration data abroad. Since January 2012, the PRDS has been showing data (those not covered by confidentiality agreements) to oil companies. "We had an open data room policy and invited oil companies to visit us," the Director General said. "It was well received in the industry. Any oil company you can think of has been here."
Some of these players helped Sri Lanka improve its institutional infrastructure, made recommendations on drafting a new law and, among other things, gave input on adjusting fiscal terms to make the sector more investor friendly.
"We are not the most attractive place in the world from the oil and gas viewpoint," Mr. Wickramasuriya admitted. "The risk premium is high because we are new players, have no local market, no policy, no infrastructure or anything other than oil and gas in the ground." With the economic downturn—oil prices have slumped—oil companies are even more reluctant to venture into Sri Lanka.
But they remain engaged and have inquired from the PRDS about developments, post-presidential election. Drawing serious investment, however, needs a lot more work. It could necessitate the Government sacrificing its slice at the outset in order to give companies a higher internal rate of return.
"You might have to give up some of the pie in order to bring in investment and increase petroleum activity," Mr. Wicramasuriya said. This means sweetening the country's fiscal terms, including taxes, to match a company's required rate of return.
It would eventually lead to stable and low domestic gas prices, he predicted: "By wasting time arguing on price today, we are losing out on value tomorrow.""Until we make the oil and gas attractive enough to extract, it will remain there," Mr. Wickramasuriya concluded. "Investment comes to the place which is most competitive. If we aren't, our neighbours will be competitive for us."